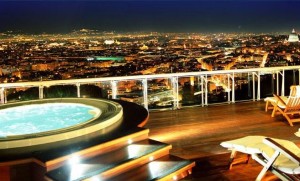 In honor of the Rome Cavalieri's 50th anniversary, the Waldorf Astoria Hotel property will be running a "Golden Sheet" promotion throughout June. Five guests will check-in to their room to find a gift-wrapped bed with gold embroidered linen and will be instantly upgraded to the exclusive Petronius or Penthouse Suite, the ultimate in old-world glamour and sophistication.
The Petronius Suite is the largest of the hotel's suites and is furnished in classical style with rare 19th Century French antiques and adorned with some of the Rome Cavalieri Hotel's most valuable works of art. It includes a large sitting room, a dining room that seats eight, and four balconies to enjoy the stunning Rome views.
The hotel is offering these current 50th anniversary packages:
·Roman Shopping Holiday led by a personal shopper to the finest 1960s haute couture ateliers (including Valentino, Fausto Sarli and Gattinoni) and a stop at the showrooms of upcoming fashion designers followed by lunch at a trendy downtown eatery for an authentic Italian meal. Private appointments with art galleries, antique dealers and interior designers as per guests' request.
·Experience Federico Fellini's finest moments with the Click & Go… it's the Dolce Vita! package, an expertly-guided tour for two of the Eternal City cruising around in an electric car where famous paparazzo will take live shots of guests in fashionable 1960s style for a true Hollywood experience. The tour includes lunch at a famous city-center restaurant as the Rome Cavalieri knows just the place to see and be seen.
·The Baby Fashionistas program will whisk parents and children on a tour of the "golden" area of town to visit top luxury fashion houses (Fendi, Gucci, Armani and more) with children's collections, beautiful fashion boutiques with top brands for kids and maternity wear for expectant mothers, as well as specialty shops like the Lion Bookshop & Café, Italy's oldest English-only bookstore. The tour includes a stop for gelato at Giolitti or Le Palme and if the parents need a pick-me-up they can stop at Sicilian pasticceria Piazza del Parlamento for a coffee and sweets.
·The "Sweet Life" package caters to the Cavalieri's youngest guests with a surprise welcome gift for children upon arrival along with sweet In-room breakfast, lunch at an authentic Roman pizzeria and gelato from an artisanal Italian ice cream shop . The package also includes a visit to 2 museums, one of which is Rome's unique interactive Museo Explora designed exclusively for children.
Rome Cavalieri, www.romecavalieri.com