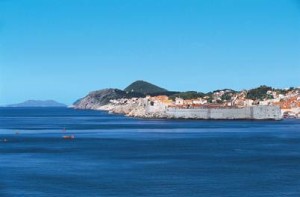 This summer, MSC Armonia will be delving into the mind of the Mediterranean, uncovering ancient and architectural treasures on a tour of philosophical thought and the birthplace of western civilization.
From June 7 through November 1, 2013, MSC Armonia will be sailing from Venice, Italy for a series of 8-day/7-night cultural and historical cruises around the eastern Mediterranean calling in Ancona in Italy, Dubrovnik in Croatia, Corfu, Gythion and Kefalonia in Greece and Kotor in Montenegro.
As a complement to the many historical and cultural day trips on offer, MSC Cruises has just added a new shore excursion: an unforgettable day trip from Dubrovnik to the beautiful, small town of Medjugorje in Bosnia. Medjugorje acquired global popularity as a religious pilgrimage site in 1981 after news broke that the Virgin Mary had appeared to six local Catholics. Today, it is recognized by many as one of Europe's holiest places given its history of reported religious apparitions. More than a million believers make pilgrimages each year to this renowned site. Designed to include an extra-long call in Dubrovnik each Sunday, MSC Armonia's updated itinerary gives travelers the chance to visit Medjugorje and spend a day in spiritual reflection, while exploring the history of this intriguing site.
On a panoramic drive along the lovely Adriatic coastline, travelers enjoying this unique day trip can explore Medjugorje's key attractions, including St. James' Church, the statue of St. Leopold, and various impressive bronze plaques illustrating the mysteries of the rosary adorning the stony path up to Apparition Hill. Travelers can visit with an informative guide or take time to reflect and appreciate the mystical atmosphere of such an extraordinary place.
Other highlights of MSC Armonia's itinerary include ancient Ancona, the natural beauty of the island of Corfu and the unspoiled fishing village of Gythion, the perfect gateway from which to discover the town of Sparta and venture into the very heart of Greek identity. Travelers will also be visit Kotor the setting of Louis de Bernière's best-selling novel 'Captain Corelli's Mandolin, Kefalonia, and this stunning old Mediterranean port and UNESCO World Heritage Site and the romance and architectural splendours of Venice.
MSC Cruises, www.msccruisesusa.com