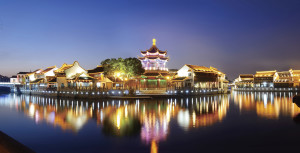 There has never been a better time to visit China, and now travelers can do so for less than $1,000.
Friendly Planet Travel is introducing a brand-new tour to two of the Asian country's most popular cities—Beijing and Shanghai.  Through the special flash sale the nine-day Beijing and Shanghai Express tour starts at $999 and explores some of China's most iconic sites. The flash sale ends July 8, 2013.
"It's nearly impossible to find a comprehensive tour to China for less than $1,000 that includes airfare, intra-China transportation, deluxe and first-class hotels, touring, and many meals," says Peggy Goldman, President of Friendly Planet Travel.
"But Friendly Planet has been able to put such a package together without compromising on quality, and it will exceed travelers' expectations, featuring a blend of ancient history and modern developments that makes China one of the most attractive travel destinations year after year. As with all flash sales, this price will not last long. So if China has been on your bucket list, now is the time to book your trip."
The package includes round-trip airfare from Los Angeles (LAX) or Houston (IAH) via Air China, including fuel surcharges, taxes, and fees; seven nights in deluxe and first-class hotels with private bathrooms; seven buffet breakfasts and one lunch; all intra-China flights and group transportation; comprehensive touring, including entrance fees; and an English-speaking tour director and local guides.
The Beijing and Shanghai Express tour begins in Shanghai, China's most modern city, often referred to as the "Paris of the East." As travelers make their way to the centrally located Broadway Mansion Hotel Shanghai, they'll enjoy a panoramic tour of Tian Zi Fang, located in the French Concession and home to many small craft stores, coffee shops, and art studios.
Travelers then have two days to explore Shanghai at their leisure. Optional excursions available include an evening acrobatics show and dinner for $35 per person; as well as a tour through Suzhou, China's well-known "city of gardens," along with a rickshaw tour along the local streets and river banks, a boat ride through Suzhou's lovely Grand Canal, and a visit to a local market for lunch for $85 per person. Travelers can also choose to enjoy a tour through the Shanghai Museum of ancient Chinese art to see its collection of 120,000 precious works, and then visit the Oriental Pearl TV Tower, one of the largest radio and TV towers in the world, before rounding out the tour along the waterfront of the Bund River for $60 per person.
Travelers will then board a flight as the tour continues to Beijing, the historical and cultural capital of China. Upon arrival, travelers will be greeted with a panoramic tour of the city, which includes a stop at the historic Tiananmen Square before checking into the Beijing International Hotel. An optional Peking Duck dinner followed by the Legend of Kung Fu show, a special Shaolin Kung Fu stage performance that blends music, martial arts, and a moving story, is available that evening for $53 per person.
The next morning, travelers have the opportunity to explore the Great Wall of China, a breathtaking historical landmark, on a full-day tour. Also included is lunch; the opportunity to see Olympic venues, such as the Bird's Nest and the Water Cube; and a stop at a jade factory with some time for shopping. In the evening, travelers have the option to relax with a traditional Chinese foot massage and buffet dinner for $45 per person.
The remainder of the trip will be spent at leisure, allowing travelers to sightsee and explore Beijing. Optional excursions available include a tour through the Forbidden City, a UNESCO World Heritage site that has the largest collection of preserved ancient wooden structures in the world; and Gaobeidian Village, where travelers will have the opportunity to join a local family in preparing and sharing a traditional Chinese dinner, for $65 per person. Another optional excursion is a full-day tour that includes a Chinese Tai Chi boxing lecture; a tour through the Summer Palace, the quintessential Chinese garden and a UNESCO World Heritage site; a trip to the Temple of Heaven, the most holy of Beijing's Imperial temples; and a visit to the Panda Zoo, dedicated to preserving this endangered species, for $70 per person.
Starting at $999, an optional four-day, post-tour extension is also available to Hong Kong, a city where East meets West and modern blends with traditional. Travelers who choose this exciting extension will stay at the Park Hotel Hong Kong, and experience Hong Kong's glorious harbor, excellent shopping, renowned restaurants, and breathtaking skylines.
Friendly Planet's nine-day Beijing and Shanghai Express tour is available on the departure date of December 4 for $999; January 8 for $1,199; November  13, February 5, March 5, and April 9 for $1,299; and December 25 for $1,999 if booked by July 8.
Friendly Planet Travel, www.FriendlyPlanet.com