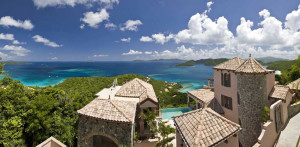 Luxury villa hospitality management company BeautifulPlaces has acquired McLaughlin Anderson Luxury Villas, the 28-year-old company that was a pioneer of the villa vacation rental industry.
"By acquiring a premier villa portfolio, and an iconic company and recognized authority of our industry, we have vaulted BeautifulPlaces into a leading position in the luxury villa segment," said Patrick Smith, founder and CEO. "Having more destinations and products to offer high-end travelers will allow us to leverage our core strengths in hospitality and on-the-ground guest services for the benefit of all our stakeholders. Going forward we intend to be at the forefront of our exponentially growing segment of luxury villa travel."
Mr. Smith added that "It will be business as usual with both companies continuing to operate separately in their respective offices but in close cooperation."
Based in St. Thomas, U.S. Virgin Islands, McLaughlin Anderson represents a collection of more than 100 posh villas, estates and vacation homes in the U.S. Virgin Islands, British Virgin Islands and Grenada. Launched in 1985, the company, under the guidance of co-founder Nancy Anderson, spearheaded development of the villa rental business in the Caribbean and built a reputation for its quality products and well-oiled operations. www.mclaughlinanderson.com
"We are thrilled to become part of a company that has both an in-depth understanding of our evolving industry and a vision for the future," said Ms. Anderson. "The resources BeautifulPlaces brings – from sales and marketing expertise to specialization in unique guest services – will significantly expand our opportunities for growth and greater success."
BeautifulPlaces will continue to operate the company as McLaughlin Anderson Luxury Villas, and Ms. Anderson will remain on staff as Advisor to the VP & General Manager and a member of the Board of Directors.
BeautifulPlaces, www.beautiful-places.com