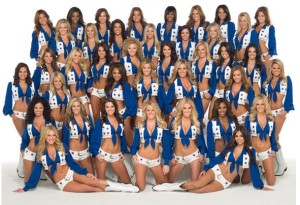 IBEROSTAR Hotels & Resorts, along with the Secretary of Tourism of the State of Quintana Roo, has announced a year-long promotional partnership with the Dallas Cowboys Football Club. The initiative will involve several marketing and promotional activities, including an on-location photo shoot for the 2014 Dallas Cowboys Cheerleaders Calendar, as well as a stylish fashion show, at the all-inclusive IBEROSTAR Cozumel in Cozumel, Mexico.
"IBEROSTAR Hotels & Resorts is delighted to continue our relationship with the illustrious Dallas Cowboys Football Club, in addition to working with the Government of the State of Quintana Roo," stated John Long, the leading Spanish hospitality chain's vice president of sales & marketing. "The cheerleaders attract a lot of attention and create excitement wherever they go, so I'm thrilled that once again they'll be bringing that great energy to IBEROSTAR."
Governor Roberto Borge firmly believes tourism is a national priority and the state of Quintana Roo leads by example.
"We are always seeking new opportunities to strengthen and position our premier destinations. We can't think of a better way to place Cozumel top of mind than to join our efforts with the talented Dallas Cowboys Cheerleaders and IBEROSTAR Hotels & Resorts" said Borge.
Following the photo shoot, a celebration will kick off with IBEROSTAR Day, where hotel guests and fans of the Dallas Cowboys will have the opportunity to interact with the Dallas Cowboys Cheerleaders at the property. Guests will also have the chance to experience a fashion show at 6:30 pm where the cheerleaders will model swimwear.
IBEROSTAR, www.iberostar.com