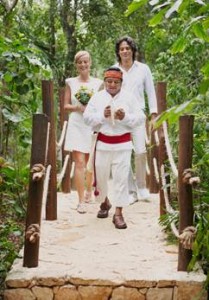 If a frenetic getaway to a justice of the peace doesn't sound very romantic, elope to the chic Viceroy Riviera Maya and be married in a sacred Mayan union where you will fully embrace in a new beginning together.
The luxury hideaway resort's 'Mayan Elopement Package' combines a Mayan Kamnicté Wedding Ceremony performed by the resort's authentic resident shaman with exquisite villa accommodations and a private celebration dinner on the Viceroy Riviera Maya's pier.
At the Viceroy Riviera Maya, the guest experience – from dining to spa treatments – is infused with traditions of the ancient Mayans of the region. But the most beautiful, celebratory and inspired is the Mayan Kamnicté Wedding Ceremony. It is conducted in the Mayan language under a gazebo on the beach decorated with Mayan inspired flowers, with the bride wearing a hand-made Mayan dress and the groom a white-linen guayabera (traditional Yucatan shirt). It begins with the resort's shaman, who comes from a long family line of Yucatan shamans, presiding over a ceremonial exchange of daisy flower bracelets as stirring drums beat within the jungle and a conch-shell horn signals the ritual's transformations. The shaman then addresses the four cardinal points of the universe and asks permission to bless the union of the couple with love, peace, and abundance. He performs blessings and good wishes offerings, and seals the union between the two lovers by strewing flower petals across the waves.
The Mayan Elopement Package includes:
2 nights in a luxury villa with private plunge pool.
Mayan Kamnicté Wedding Ceremony on the beach.
Romantic Celebration Dinner on the Pier.
The package starts at $1,485. A full range of other wedding and romantic services can be provided at additional cost, such as a wedding photographer and assistance with a marriage license.
Viceroy Hotel Group, www.viceroyhotelgroup.com