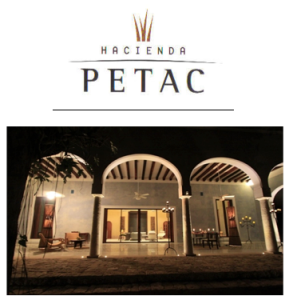 Hacienda Petac has announced the opening of Casa Ramon, a 3,000 square foot casita with two master bedrooms and adjoining living room/home theater. Casa Ramon, named for the towering trees that offer a canopy of cool shade, seamlessly retains the genuine architecture of Hacienda Petac while integrating smart technology in sound and lighting for the techie traveler.
In this relentlessly fast-paced world, it is nearly impossible to find a quiet retreat for family and friends without the intrusion of electronics…no cell phones, computer screens, beeping. Being family people themselves, the owners of Hacienda Petac have worked on the perfect solution of maintaining the properties unplugged serenity in the original wing and adding an annex which offers the ultimate state-of-the art connection to the outside world…if desired. Now, guests can be "unplugged" or very "plugged in" in the new Casa Ramon.
"As with the rest of the Hacienda," says owner Dev Stern, "we believe that the greatest purpose of any building is to bring families and friends together. That's why the plans for this annex with two master suites, also included an irresistibly inviting terrace and a state-of-the-art entertainment salon big enough to host a group for movie night."
Casa Ramon, created with the hacienda's history in mind, is built on the site of an original henequinera theatre and just beyond the walls of the old schoolhouse which are still standing. Just past these historical ruins are the front steps and entrance of Casa Ramon revealing a view which extends all the way to the back gardens through walls of custom made sliding glass. Guests will sense the outdoors flowing into the modern living room and entertainment salon. The living room opens on to a very large terrace designed as a special place to host a family and friend party or even a small wedding.
Flanking the entertainment room on either side are two spacious bedrooms, one king and one double queen. Each has a private bath with rejuvenating high flow showers, and tubs of marble positioned to take advantage of the private garden view which can be adjusted by remote control shades
Hacienda Petac is located approximately 30 minutes from Merida International Airport, which is served by frequent flights from Houston, Miami, Atlanta and Mexico City. From Cancun, the Hacienda is a three-hour drive.
Price per night (four night minimum): 1-4 guests, $1200, 5-7 guests $1500, 8-10 guests 1800 and 11-14 guests $2000. Rate includes: Exclusive use of the Hacienda for your guests only, all meals, snacks and non-alcoholic beverages, full Service staff, on-site manager/Concierge, 16% Government Tax, daily laundry, nightly turn down, bath amenities, use of private spa and gym and one round-trip Merida Airport transfer.
Hacienda Petac, www.haciendapetac.com