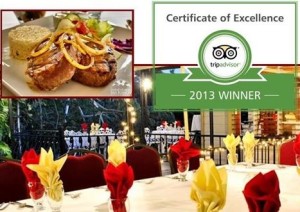 Running W Steakhouse, the restaurant at the San Ignacio Resort Hotel in Belize, has received a TripAdvisor Certificate of Excellence award. The accolade, which honors hospitality excellence, is given to establishments that consistently achieve outstanding traveler reviews on TripAdvisor.
To qualify for a Certificate of Excellence, businesses must maintain an overall rating of four or higher, out of a possible five, as reviewed by travelers on TripAdvisor, and must have been listed on TripAdvisor for at least 12 months. Additional criteria include the volume of reviews received within the last 12 months.
"We are very happy to receive this recognition" said Mareli Bedran, Kitchen Manager at Running W Steakhouse. "We always want to give our customers great service, amazing food and a memorable experience. This accolade is evidence that our hard work is translating into positive reviews on TripAdvisor."
The San Ignacio Resort Hotel is a full-service Belize resort, located in the Cayo district. The hotel boasts first-class amenities and accommodations for those seeking to relax and enjoy a beautiful tropical resort, with nearby adventure for those wanting to explore Belize.
San Ignacio Belize, www.sanignaciobelize.com