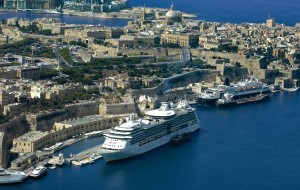 With its nineteen historical warehouses, built 250 years ago by Grand Master Pinto at the height of the baroque period in Malta … stretching along the water's edge and the Quay Wall where the Knights of St. John and European merchants used to unload their wares … the impregnable Old Power Station that serves as a testimony to the eclectic and heroic history of the Grand Harbour … the Forni Stores, dating back to 1626 and constructed by Grand Master de Vilhena – the Valletta Waterfront invites you to discover its complete mix of retail, dining and leisure experiences.
The Valletta Waterfront is also the gateway to Malta's capital city, Valletta. In fact, as one of the most successful Mediterranean ports, the Port of Valletta welcomes more than half-a-million cruise passengers into this 'open air museum'.
All this comes with an added bonus – the majestic setting within the Grand Harbour, a natural deep water port, for many thousands of years the epicentre of Malta's maritime activity, a truly exceptional and outstanding backdrop.
The Maltese Prime Minister, Dr. Joseph Muscat, said that Malta has invested heavily in the cruise industry, creating direct and indirect job opportunities for the island. Throughout recent years, Malta has experienced continuous growth in this sector and the investment is now bearing its fruit.
The cruise industry, which is acknowledged to be a major driver of growth and jobs, has more than doubled in size in Europe in a decade and now generates over $40 billion in output a year and employs over 315,000 people. Malta has shared in this success thanks to its location and unique appeal. Between 2006 and 2011 direct cruise expenditure in Malta was estimated at around #400 million.
Visit Malta, www.visitmalta.com