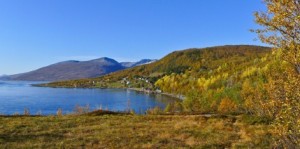 As the midnight sun fades and the brilliant colors of the fall begin to come into play, guests aboard Hurtigruten's fleet of modern ships will be treated to an array of new seasonal excursions, local culinary delights, and musical interludes in a new program Hurtigruten is calling "Autumn Gold."
Highlighting the quieter fall season along Norway's scenic fjord-indented west coast, above and below the Arctic Circle, "Autumn Gold" offers Hurtigruten's guests even greater opportunities to experience Norwegian traditions and lifestyles firsthand.
The new program takes place on the company's 120-year-old, award-winning Coastal Voyage route, with the ships calling at 34 ports between the cultural center of Bergen and Kirkenes, located high above the Arctic Circle. The six-, seven-, 11- and 12-day sailings of "Autumn Gold" run daily from September 1 through October 31 and are priced between $1,448 and $12,850 per person, double; the higher prices are for suites.
Named "The world's most beautiful voyage," by Lonely Planet, the Coastal Voyage route has twice been honored by National Geographic Traveler as the "best destination in the world." The incredible diversity of ports offers Hurtigruten's guests a wealth of experiences and an ever-changing landscape that includes small fishing villages in the rugged Lofoten Islands; Art Nouveau Ålesund, the medieval Viking capital of Trondheim; and Norway's "Paris of the North," Tromsø.
Adding to this already unique experience, "Autumn Gold" adds a rare journey into the Hjørundfjord, one of Norway's most spectacular fjords, with its pristine natural scenery of steep rock walls, green vistas, solitary mountain farms and intimate villages.
Other new excursions a boat trip to "Munkholmen," a historic island near Trondheim and home to a 11th-century Benedictine monastery that was replaced by a fortress and prison; "Sami Autumn," on which guests learn about the Arctic region's ancient "pantry and pharmacy" traditions from Sami shamans and the Sami way of life; and the hands-on "Arctic Bushcraft," during which guests are exposed to the centuries-old traditions and fortitude of the Arctic's inhabitants as they reap their harvest, hunt for fish and store their winter supplies.
Culinary adventures on board include local specialties every night, where the menus have been adjusted to focus on the seasonal and regional ingredients that make up the autumn feasts. And, as happens on many of Hurtigruten's sailings, but with special emphasis during the "Autumn Gold" program, music plays a central role. In Bergen, guests can sit and relax as the Grieg Academy offers enchanting melodies prior to departure; in Tromsø local conservatory students come aboard to entertain the guests with a variety of selections; and in Vadsø, Sami- and Russian-inspired songs are performed.
Hurtigruten, www.hurtigruten.us