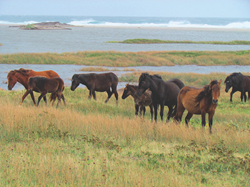 There are few places on earth as unique as Sable Island. For the first time ever, Adventure Canada grants travelers in depth access to this mysterious destination with the only cruise itinerary focusing exclusively on Sable Island.
On the island, Adventure Canada's guests will observe the famed herds of feral ponies, throngs of seabirds and seal breeding grounds. They will also interact with the small local population, learning about the island's traditions, folklore and history. For many, the main attraction is just getting to Sable Island, a place very few people have explored, despite its proximity to mainland North America.
The inaugural sailing takes place June 12 to June 19, 2014 and will be unlike any other voyage for the lucky few who participate.
"It is always our goal to give guests new destinations to explore that they would otherwise be unable to reach," says Cedar Swan, Adventure Canada's Vice President. "Sable Island is now officially a national park, and we are so excited to provide an easy, yet exciting way for people to visit the new destination."
Guests will embark from picturesque St. John's, Newfoundland. Aboard Adventure Canada's Sea Adventurer ship, dynamic leaders and informed speakers will inspire, teach and entertain voyagers. On the island, travellers will explore the national park, tour the Research and Rescue Station, observe the unique animal populations and meet some of the vastly outnumbered human inhabitants.
On the return journey, the Sea Adventurer will make port in the French territory of St. Pierre and Miquelon, whose population of 6,500 blends French, Basque, Breton and Normand ancestry.
Rates begin at $1,995 USD per person and include the complete itinerary, onboard meals, park and entry fees, access to Adventure Canada's team of resource specialists, an educational program and pre-departure materials.
Adventure Canada, www.adventurecanada.com