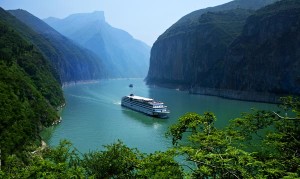 Pacific Delight Tours is offering a 14 day familiarization trip to China from November 11 – 24, 2013. Covering Beijing, Chongqing, Xi'an and Shanghai in addition to a four-night Yangtze River cruise on the newly renovated five-star Victoria Anna featuring upgraded "Boutique Lifestyle Service" amenities, the trip will provide agents with a first-hand experience of the FiveStarPlus treatment offered through Pacific Delight's Gold Experience Exclusive Collection from $2,399 per agent, including airfare.
"While Pacific Delight offers a competitively priced Silver Experience line of vacation products providing affordable luxury at value-oriented price points, our Gold Experience continues to be the pinnacle of our China portfolio," said Larry Kwan, president of Pacific Delight Tours.
"Agents will take away first-hand knowledge that will help them upsell their clients and earn higher commission," said Kwan. "They will also enjoy a spectacular overview of China's most treasured sites and experiences."
Travel agents will receive an introduction to many of China's historical sites and relics, including the Great Wall, Forbidden City, Terra Cotta Warriors and Summer Palace. They will also learn about China's ancient history and early civilization as they sail along the majestic Yangtze River while enjoying educational lectures and commentary from experienced river guides and cruise directors.
Participating hotels include Ritz-Carlton properties in Beijing and Shanghai as well as the five-star Shangri-La Hotel Xian.
Air inclusive rates are per person, based on double occupancy, with departure from LAX/SFO departure (additional gateways available upon request). A single occupancy surcharge is available from $699.
Pacific Delight Tours, www.PacificDelightTours.com