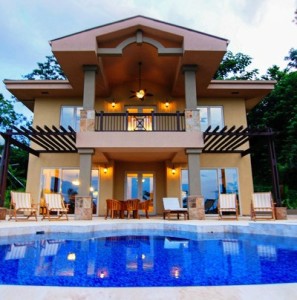 Discover the new Red Frog Beach Rainforest Resort & Marina, a unique Caribbean island oasis featuring luxurious accommodations set amid unparalleled natural beauty. Take advantage of the resort's Grand Opening special offer and enjoy two nights "on the house" when you book seven nights by August 31 and stay by December 19, 2013.
The Red Frog Beach Resort is located in the Caribbean archipelago of Bocas del Toro, off the northern coast of Panama. Bocas is becoming increasingly popular among travelers for both its laid-back nightlife and bio-diverse, pristine and protected natural environment. Red Frog Beach features miles of lush rainforest, an adjacent national marine park, recreational activities and a spectacular island location with several beaches including its namesake beach -designated as "One of the World's Best Secret Beaches" by The Travel Channel and "One of the Hottest Beaches in Central America" by Frommer's Travel.
Tucked within the resort's unspoiled natural beauty are its accommodations, Bocas del Toro's finest. The upscale Villas have two to six bedroom floor plans, private pools and ocean views. The Jungle Lodge is an authentic, eco-friendly accommodation set inside a secluded Jungle Village. The Inn at Red Frog Beach allows guests to stay in a private room in a large shared Villa at the top of the island. The hill-top Honeymoon King Suite has an infinity edge pool with garden surroundings.
All the accommodations have direct access to the beaches, nature paths, an activity center with a beachfront breakfast included. Accommodations at Red Frog Beach include:
· The Villas; Two to six bedroom floor plans from $365/night
· The Jungle Lodge; from $235/night
· The King Honeymoon Suite; from $285/night
· The Inn at Red Frog Beach; King and Queen Suites from $195/night
"Our guests like the wide variety of activities and beautiful scenery we have here," said Red Frog marketing associate Jarisa Garcia. "Nowhere else in Panama will you find such an abundant rainforest coupled with some of the best, white-sandy beaches in Central America."
Red Frog Beach, www.redfrogbeach.com