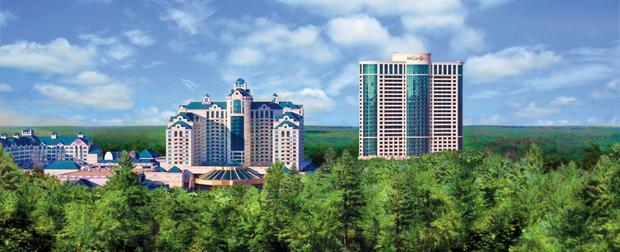 Casinos conjure up vibrant images. Foxwoods Resort Casino is no exception. With its 5,800 slots, gamblers sit on swivel chairs staring at rolling cylinders amidst a cacophony of musical sounds. The experience is hypnotic.
For others, the spin of the roulette ball entices bets as do poker, keno, racebook and other games on 350 gaming tables. At the massive Bingo Hall, home to 3,600 players, some arrive in wheelchairs. And at bus docks, thousands disembark clutching food vouchers and dreams of wealth.
But there's another aspect to this gambling oasis. It's the "Resort" in the Foxwoods Resort Casino name. Whether a high roller, comfortably affluent or above-average guest, the destination has upped its ante to attract and indulge discriminating clientele. 
The Lay of the Tribal Land
The Mashantucket Pequot Tribal Nation opened Foxwoods in 1986 with a Bingo Hall. Today, the entity is the Western Hemisphere's largest casino and located on a mere 1,600 acres in southeastern Connecticut, near New London. Four hotels offer 2,230 rooms. Dining comprises 30 venues, from on-the-go fare to those with award-winning chefs. Meeting planners have up to 150,000 square feet to utilize. Add in shopping, both upscale and not; two spas; top-shelf entertainment; luxury bowling; two Rees Jones-designed championship golf courses plus easy highway, train and airport access and Foxwoods wins. 
Special Places to Sleep
Looming over Foxwoods is its signature 808-room Grand Pequot Tower. The AAA Four-Diamond Award property has 86 suites and 23 villas. A new room design nears completion on the VIP upper floors.
The luxurious Villas at Foxwoods are spectacular, top floor accommodations with 24-hour butler and room service, plus complimentary valet. They average 1,400 square feet. But the opulent two-story Mashantucket Villa has an elevator and 5,000 square feet. Inside are three bedrooms, Jacuzzis and six bathrooms. Two sweeping circular staircases lead to a second floor with a balcony that overlooks a lavish living room and baby grand piano. Private chefs have access to a full-service kitchen and $10,000 worth of truffles, if needed.
Gambling is a mainstay for Asians who contribute mightily to Foxwoods' revenue. For high rollers, the Feng Shui-designed Asian Villa has a Zen-like sense of home, combining mahogany floors, clean lines and cream-colored walls.
Deluxe rooms and suites are available at other properties. MGM Grand at Foxwoods has a retro-chic atmosphere. Two Trees Inn has a country-retreat feel with pet-friendly rooms. Great Cedars Hotel has newly renovated rustic furnishings and is located in the heart of the casino. 
[slideshow gallery_id="13″]
Upscale Culinary
Exceptionally fine dining is the norm at Foxwoods. Recently, its five top chefs showcased their skills with a six-course dinner at the James Beard House in New York.
Foxwoods' Executive Chef Edward Allen said by fall 2013, Paragon Restaurant diners with smart phone bar-code readers can scan the menu to view the Trace & Trust farm where the poultry, meat, pork or rabbit was purchased.
The 24th floor restaurant features French- and Asian-influenced cuisine and uses many ingredients from Connecticut farms and producers. It's private, winding, marble staircase leads to the exclusive, high-roller Stargazer Casino. Games are blackjack, roulette and baccarat.
Fat wallets align with quality steaks. At David Burke Prime, the restaurant's walls are lined with pink Himalayan salt. Hand-picked meat, other than prime rib and filet, is aged from 28 days to a rare 100 days in a special room lined with the salt. Between serious dining, whimsical Chef Burke serves maple-cured thick bacon strips attached with clothespins to a miniature clothesline rack. Wine list is 5,000 bottles showcased in a three-story tower.
More Fine Dining
Shrine is a nightclub and restaurant with a 12-person sushi counter. Menu has a predominantly Chinese feel. At Alta Strada, the ambiance is an Italian trattoria and open kitchen. The outdoor Mediterranean grill is complemented by the Connecticut countryside. Craftsteak seats 150 amidst Brazilian walnut, bronze, leather and steel décor. Its menu features Wagyu beef. Cedars Steak House has a club-like atmosphere. Al Dente is all about Southern Italian fare and Ribeye Steak Fiorentina. 
Up All Night
Foxwoods for entertainment is jumping. Its MGM Grand Theater seats 4,000, attracting headliners such as Aerosmith, Seinfeld and Buddy Guy. Comix seats 350, has a full-service bar and small-plate menu. Its marque varies from headliners to locals and from comedy to musical acts.
Bowling under chandeliers? Doable at High Rollers Luxury Lanes & Lounge with its PBA approved 20 lanes where six are VIP. Gone are uncomfortable benches, replaced instead with plush banquettes. Accents are dark wood floors and flocked wallpaper. Non-bowlers can shoot pool on six professional billiard tables or watch sporting events on 60 big-screen TVs. The menu here is casual and eclectic. 
The Perfect Touch
Masseuse Michael at The Norwich Spa said many casino patrons don't know about the two spas onsite. What a shame. They could offset gaming stress with special treatments, such as Norwich's signature Duet Couples Massage, topped off with a dip in its pool. At the award-winning G Spa at the MGM Grand, hydro facials are a specialty as is relaxing at the private waterfall pool or steam room. 
To Round Out the Day
Thought-provoking, inter-active exhibits of the native peoples of the United States and Canada are in the Mashantucket Pequot Museum and Research Center, close to Foxwoods. A tour can take up to four hours. It also has a well-stocked gift shop.
High-end shopping includes Bulgari, Misura, Judith Ripka and others. Munson's hand-dips chocolates. Alex and Ani sells four-leaf clover and playing card charms on its popular bracelets. An anticipated event for fall 2014 is the opening of Tanger Outlets at Foxwoods with 85 stores.
The 36-hole Lake of Isles golf club was recently awarded the Silver Medal by Golf magazine. The honor was based on golf, lodging, food and drink and service. Other factors were challenge, playability, scenery, history and facilities.             
Meeting High End Expectations
When Madison Square Garden contacted the Foxwoods Resort Sales team about an executive meeting for one of their teams, this was the result.
Several tower hotel floors were personalized by replacing hallway art work with team art and photos of current and past players. Overhead lighting and scones reflected team colors and welcoming window slicks were placed on windows.
In the hospitality suite, continuing the team and color theme resulted in changing out the felt on the pool table, plus a NYC skyline was put on one wall. For a whimsical touch, housekeeping carts reflected a team spirit. Room amenities included key cards with the team's logo, personalized towels and unique chocolate sculptures delivered at turndown.
For Foxwoods Resort Casino, www.foxwoods.com