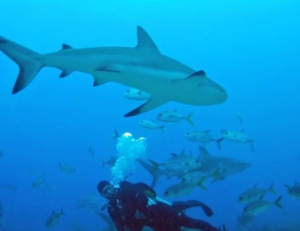 Who does not love a good dive, no matter where it is? Nothing perks our fins up like hearing "the second largest barrier reef in the world", but to make sure your attention has been caught there are also cage-free shark dives, open water dolphin dives, wrecks, and glorious marine life.
Hooked yet?
Diving Roatan
Diving in Roatan is something every diver must experience, at least once though we know a large percentage go back since it's difficult to dive all the must-dos in a single trip. It's home to the second largest barrier reef, how could you pass that up?
There's so much to see from wrecks to walls to sloping canyons and beautiful corals and marine life. Our good friend Mel recently visited Roatan and returned impressed by the relative health of the reef and the variety of soft coral. He also noted that the diving was fairly relaxed with little in the way of currents or swells and the visibility was great, (perfect for spotting critters and sea life at a distance).
You can expect to find turtles, moray eels, stingrays, groupers, snappers, a large variety of reef fish, invertebrates, colorful healthy reefs and, if you're lucky, you might even spot a large pelagic or a giant whale shark!
A great place to stay if you dive Roatan is Anthony's Key Resort. Mel noted it is "a remarkable place. It is fairly self-sufficient with its own generators, water filtration and sewage system," but one of the things we love most about Anthony's Key is its clinic.
Originally created to aid local lobstermen with decompression sickness, the clinic has helped hundreds of locals and tourists for over 25 years. As divers, we're all over this since it's nice to know we can dive worry-free and if anything does happen, we're covered, right at the resort
But back to diving – we haven't even gotten into two of our favorite dives yet: Shark and Dolphin dives.
Shark Dive
Although this might scare-off a normal tourist, we're divers and we couldn't wait to sign up for this. A shark dive is a must on most diver lists. So, when you've got a place that offers that how can you say no?
Seventy feet below the sea you can find 5-8 foot Caribbean reef sharks circling the floor and waiting to be fed by specialized divers who hand-feed these magnificent creatures. And for the next 30 minutes you can free swim or kneel as the sharks do their thing and divers are treated to this awe-inspiring scene when man and shark share the ocean in harmony.
Dolphin Dive
Anthony's Key is also known for its free swim Dolphin dives as well as its Shark dives.
From the Anthony's Key dock, divers are taken to Bailey's Key for a topside orientation and Q&A session to learn about diving etiquette with the dolphins. Then, you're just a short boat ride to a beautiful reef wall where two to three naturally curious dolphins arrive and are free to interact with you. And for the next 45 minutes divers can observe, photograph and play with bottlenose dolphins in their natural environment.
Topside at Roatan
Roatan isn't just a diver's dream, but it's also pretty great for land-lovers.
If you decide to take the day off from diving, you can hit up the beach and relax under a palm tree and soak up the rays or grab a kayak and paddle and explore (guess that's not really for land-lovers, is it?) but you can go horseback riding, off-road in a 4-wheel sand/dune buggy and then some.
You can also check out the Roatan Museum and Roatan Institute of Marine Sciences, where guests can participate in educational programs and encounters with marine mammals. More inquisitive guests can join trained naturalists across the lagoon on Bailey's Key to interact with playful dolphins and observe some of the island's indigenous plants and animals along the key's nature trail.
One of the must-dos for Roatan is the zip line tour that's combined with a visit to Gumbalimba Park, which boasts a botanical garden and small nature preserve complete with colorful parrots and a variety of monkeys. The zip line portion has about a dozen lines starting from the top of a mountain down to sea level and it's quite a rush to zip through the scenery.
Maduro Dive Fant-Seas, www.madurodive.com