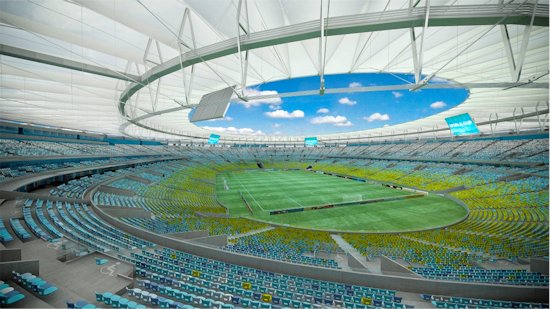 The Estádio do Maracanã in Rio de Janeiro, Brazil
At this writing, Brazil has just completed its two great critical dress rehearsals. For the whole of the second half of the recent month of June, this country that still has at least one of its feet stubbornly stuck in the Third World (and the middle of the 20th Century), at the same time as it clamors for seating at the head table of world leaders, hosted a mini-World Cup, FIFA's so-called Cup of the Confederations. Eight national teams — world football powerhouses such as Spain, Italy and Uruguay as well as up-and-coming Nigeria and the completely improbable Tahiti —competed in six cities.
In Recife, way up in the Brazilian Northeast, the 46,000-capacity Itaipava Arena had just been constructed from the ground up; it had just been inaugurated a couple of weeks earlier.
In Brasília, the nation's capital, the aging Mané Garrincha Stadium, totally demolished in 2010, had just been totally rebuilt; it too had been officially inaugurated only a couple of weeks earlier, with finishing touches to be completed subsequently, though no one knew exactly when.
In Rio de Janeiro, meanwhile, the Maracaña, arguably the most famous football stadium in the entire world, had just been through a half billion-dollar facelift that left it with a fiberglass roof covering 95 percent of the nearly 79,000 seats, unobstructed sightlines, and an abundance of electronic gadgetry. But more about the Cup of the Confederations later.
Last week, July 22 to 28, Brazil — but mostly Rio de Janeiro — gave its all to welcoming both the new Argentine Pope in his first international pastoral tour and at the same time hundreds of thousands of young people who came from every corner of the globe to participate in the Catholic Church's World Youth Day, with which Pope Francis's visit not by chance coincided.
With a helping hand from the Confederations and the Roman Church, Brazil was supposed to learn something about where there are still kinks and weak points — in its ability to process outsize throngs through outdated airports, in its ability to move people with some smoothness through traffic-clogged streets to stadiums and other venues, in its ability to deal with outsiders who don't function in the local Portuguese any better than most Brazilians function effectively in any other language except Portuguese, in its ability to provide adequate lodging for more people than it is able to host in hotel rooms, and not least of all in its ability to address world-class security issues. And Brazil has now learned a great deal. But, one way or another, the great dress rehearsals are over.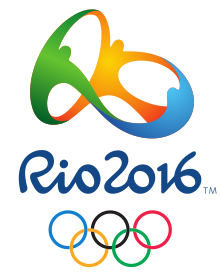 From now until the two upcoming, all but back-to-back megaevents, there will be nothing but the still unfinished job of getting the act together and a clock that ticks louder and louder every day.
The two great megaevents:
For the first time since 1950, the World Cup of Football will come to Brazil in June and July, 2014. The 1950 World Cup was a relatively innocent event. The 2014 World Cup will not be.
 Then, two years later, in August 2016, the city of Rio de Janeiro will host the Summer Olympics pretty much all by its lonesome.
Readers of the Travel World News website will surely begin to want to ask themselves what their action agenda is? Do readers want to start thinking about acquiring tickets, which will go on sale for the World Cup just a couple of weeks from now, this very August 20, and for the Olympics one year in advance of the Games, in 2015? If you are a travel agent reading this, do you want to start talking the events up to a carefully targeted market? Or would it be wiser if everyone just stayed home and watched the big events on television?
In the course of the Confederations Cup, the Ministry of Tourism did a great deal of interviewing in stadiums, in hotels, in airports, in venues to which spectators went after games to hang out and, as reported by the Ministry, evaluations both by Brazilians and by foreigners were surprisingly enthusiastic. Of the large number of foreign visitors interviewed, 95.3 percent gave positive ratings to the stadiums "in general" and to stadium comfort. For stadium employees, positives, again from foreign visitors only, fell to 89.5 percent; for overall organization, to 81 percent; for stadium signage, to 78.8 percent; for ease of acquiring tickets, to 69,6 percent. But, even in respect of the most laggard of the categories tested by the survey, namely, transportation to and from the stadiums, positives were still no worse than 61.5 percent.
Even Jérôme Valcke, the FIFA secretary general, pronounced the Confederation games a success, though not of course without a bit of ritual chiding about the six stadiums Brazil still has to deliver in time for the World Cup with all the paint dry. Valcke has repeatedly been at loggerheads with Brazilian officials over Brazil's sluggish progress toward 2014, and he has at times expressed himself in Brazil with the arrogance of a Roman proconsul in some barbarous, remote province of the empire.
The Confederations Cup was nevertheless a relatively small affair, with a total attendance of 804,659 in 16 matches among, to repeat, eight national teams. The World Cup will involve 32 national teams in 64 games, and it will take place not, like the Confederations Cup, in six cities but in 12 and over an exhausting 32 days.
And who knows who the foreigners were that the Brazilian Ministry of Tourism found to be generally so delighted with their Confederations Cup experience? There were not even really all that many "foreign" foreigners who made the trek to Brazil for the Confederations Cup, as distinct, that is, from foreigners already domiciled in Brazil.
For the World Cup, 600,000 foreigners are expected to be in attendance, and many of those foreigners will be "foreign" foreigners — i.e., foreigners who have traveled substantial distances — and a very large percentage of them will be of the same breed that occupy luxury suites in U.S. football stadiums and sleep and dine at the Ritz. These foreign visitors are accustomed to having everything top of the line and first class, and they may not be as forgiving as the foreigners found by the Brazilian Ministry of Tourism, which, given its own interests, cannot possibly be the most impartial source of information as to anyone's satisfaction in Brazil anyway.
And then there is another little fly that has gotten into the ointment. Not at all coincidentally, tens of thousands of Brazilians, predominantly of the middle class, went to the streets in the course of the Confederations Cup — in Rio, in São Paulo and even in many a small town deep in the hinterlands — with a long laundry list of grievances with their Federal and state and local governments.
They were angry about the deplorable state of health care, education, transportation and policing and they were angry about the onerous taxes they paid for services they are entitled to under the law but mostly don't get as a result of both mismanagement and corruption. The enormous spending and misspending on arenas for sporting events at the same time that basic services languished accounted not entirely but to some extent for the particular timing.
Are these protests likely to continue? And, if so, will they cause any inconvenience to visitors, put any visitors in harm's way, or in any way jeopardize World Cup or Olympics competitions?
At this point, I should say that, though I am myself a U.S. citizen, I have lived in Brazil, extremely happily and at times ecstatically, for 11 years, I have watched Brazil very closely during this period, and my own best guess is that continuing street demonstrations will have little effect, if any at all, on Brazil's ability to bring off the 2014 and 2016 games.
Brazilians on the whole are an extremely good-natured people, frequently polite to a fault, and generally speaking so averse to confrontation that their going to the streets tells you they are at long last really seriously fed up. But that's what they are. They are fed up. They are disgusted. They are not nearly as impassioned and still less as irreconcilable as, say, many of the Egyptians in Tahrir Square seem to be, and there are no political aspirations that Brazilians are eager to die for. Brazilians don't want to die. They want to live — and to have bigger and more powerful motor cars and bigger television screens and bigger refrigerators.
Also, Brazilians themselves enjoy sporting events, and they are, as everyone knows, particularly devoted to football and the World Cup.
The Pope's visit and the Church's World Youth Day tested and strained systems totally different from those on trial during the Confederations Cup, and both in North America and in Europe — as reported in the New York Times, for example, under the headline "Missteps by Brazil Mar Visit by Pope" — the past week or so in the Rio de Janeiro area may have seemed like a comedy of errors or a slapstick of errors.
The Pope's car one day went off course and got stuck in traffic. The subway system broke down and thousands of young pilgrims went wandering, seemingly aimlessly, through the streets of Copacabana and Botafogo and Flamengo and even farther afield.
Even when the subway was operating at full capacity 24-hours a day, five hours a day more than the Rio subway usually operates, lines were often many blocks long and buses also proved inadequate to the task. (A good, if perhaps inevitable, joke in O Globo, Rio's leading newspaper, on the morning after the enactment of the Stations of the Cross: "The pilgrims' via-crúcis did not come to an end with the Pope's blessing. . . .")
Perhaps most disheartening of all, temperatures were setting record lows, everyone was profoundly chilled, it rained like crazy, and the vast terrain in lovely Guaratiba, way out in West Rio, where an impressive modernist altar had been mounted for an all-night vigil and then a morning-after closing mass, turned little by little into a sodden swamp.
Had wiser heads not prevailed and rescheduled the event for Copacabana Beach, it would much more likely have made for a replay of the muddy goings-on at Max Yasgur's farm in Woodstock, New York in 1969 than it would have been an exhilarating and inspiring religious solemnity.
Rio Mayor Eduardo Paes said that, if he were going to give the city a grade for organizing the week's events, it would have to be closer to a zero than to a ten.
But perhaps Paes had been spending too much time monitoring the Northern Hemisphere press. According to a comment in the Rio broadsheet O Globo, and not necessarily so very paranoid a comment, the Northern Hemisphere press was once again hard at work to discredit us, no matter how badly we did — or how well we did.
From most points of view here on the ground, the Pope's visit and the World Youth Day festivities were in fact a singular and stunning success, and for the pilgrims and the millions of others here in Brazil who merely watched on television, Catholics and non-Catholics alike, it was a profoundly stirring emotional experience.
The success of the events, as well as at least some of the mishaps, were above all owing to the character of Pope Francis himself and his unparalleled capacity for connecting with people. Organizers, if they had had their way, would have put him in armored vehicles and whisked him here and there by helicopter. The Pope made his way from the airport to downtown Rio in a simple Fiat with manual rather than electronic windows, and he sat in the back seat with the window open so that he could touch people and they in turn could touch him.
If we think about it just a little, we will all probably concede that the travel experiences that stay most firmly fixed in our minds, and in many instances the travel experiences we come, in retrospect, to value the most, are travel experiences that did not go exactly as planned and in which we came up against unanticipated difficulties or hardships that we had to put our wits to work to finesse, or we just endured.
In this respect, the hundreds of thousands of young people who came from around the world for World Youth Day in Rio were very specially, not to mention advantageously, situated. These young people were not only not traveling first class, they were traveling by and large on the cheap. Only 6.9 percent of them stayed in hotels. The rest stayed either with sympathetic host families, often in communities far from the center of things, or in parish houses or dormitories of one kind or another. They were not even religious tourists in the usual sense of the term. They really were, as they were regularly called (and called themselves), pilgrims.
Had events gone as planned, they were going to travel the last 13 kilometers to the terrain in Guaratiba on foot. Sleeping bags would be permitted for those planning to spend the night, but not tents. When the vigil and closing mass were moved to Copacabana, another pilgrimage route was found. Now they would walk to Copacabana from the central railroad station on downtown Avenida Presidente Vargas, a distance of 9.5 km.
And there is another reason why the City of Rio and the World Youth Day organizers must be forgiven any number of little accidents and misadventures. Because World Youth Day was not one of those events that would fill up five-star hotels and chic restaurants (Brazilian "pilgrims" would wind up spending an average of $22 a day; foreigners, an average of $36), it slipped under many people's radar.
The tourism industry and other folks with their eye on the till didn't exactly dismiss the Pope's visit and World Youth Day, but many failed to imagine the colossal scale of what was about to engulf them. It was, in the end, not a small-scale dress rehearsal for the World Cup and the Olympics that took place; it was in its own right a megaevent.
The number of outsiders, some from elsewhere in Brazil, some from beyond Brazilian borders, was thought to be around two million — so small wonder subway and buses couldn't cope. (Could subway and buses have coped in London? In Paris? In New York?) And, mishaps notwithstanding, young people from elsewhere in South America, from Africa, from Asia, from Europe, from North America were constantly being interviewed on television; their smiles, even in the rain, went ear to ear, and one after another they testified that Rio is beautiful, Rio is gorgeous, no matter what the weather.
Once again, the Brazilian Ministry of Tourism was out there interviewing like crazy and, of 1,100 Brazilians and foreigners whose responses had been tallied in time for a first press release, 58.5 percent said that the Rio venue was a major factor in their decision to attend World Youth Day and 95.7 percent said that they intended to return to Rio in the future. Of the foreigners in particular, 93 percent expressed a desire to return.
So do readers of this site want, finally, to begin to think about acquiring tickets for the Brazilian World Cup and the Rio Olympics Games? If you are a travel agent reading this, do you want to start talking the events up to your client? Or should everyone really just stay at home and watch the events on television?
It is observed here in Brazil sometimes that, when the Northern Hemisphere messes up, as, for example, when, during the same week that the Pope was in Brazil, 80 or so people died in the wreck of an out-of-control TGV in northwest Spain, that's merely an unforeseeable and unfortunate accident, it's the price we pay for accelerated progress — yet at the same time, when we mess up in the Southern Hemisphere, when, for example, the Pope's Fiat gets stuck in traffic, this is a revelation of our deep-seated and probably incorrigible inability to get anything right.
The 2014 World Cup and the 2016 Olympics in fact probably will lack the bland smoothness of events in the Northern Hemisphere, when everything is going exactly according to plan. The 2014 World Cup and the 2016 Olympics will come off in a Brazilian way. That means there will be lots of little bumps and maybe even a few big ones. People who like bland smoothness will probably be indignant and vow never to come south of the Equator again. Those who do come and in particular those who know how to enjoy a little bump or two will in all likelihood have the time of their lives.