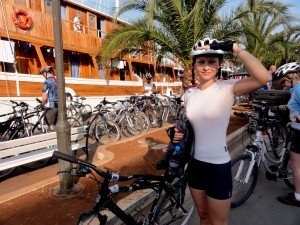 Mediterra DMC, a global tour operator specializing in Mediterranean basin counties, has unveiled the 2014/15 program for its best selling and most popular tour.
The Most Unusual Biking Tour, a Dalmatian Island-hopping cruise and cycling tour, is practically sold out for 2013 due to high demand by cycling enthusiasts. The unique recreational biking tour consists of sailing by small ships in the Adriatic among numerous Dalmatian islands, dropping off bikers at one point of an island and picking them up at the other end. This routine is repeated daily but on different islands. Biking routes are anywhere between 10 and 30 miles with different levels of difficulties. There is plenty of time for swimming, sightseeing and fun between biking sessions.
Bikes, meals, water and other essentials are all included in this 7 day tour that operates weekly in off-season months. Kick-off of the program is loaded with perks, discounts and special deals for early bookings.
Mediterr, info@mediterra.biz, www.mediterra.biz