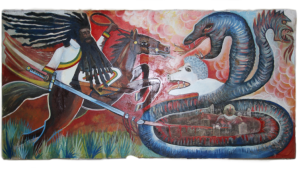 Jamaica's Rastafari culture has been documented and its history detailed in a definitive exhibition now underway at the Institute of Jamaica in the island's cultural capital, Kingston. The historic exhibition, 'Rastafari: Unconquerable!' examines the 'Revelation of Rastafari', the 'Philosophy and Evolution of the Rastafari Movement', the 'Visit of His Imperial Majesty Haile Selassie to Jamaica', as well as a historical review of the challenges experienced by Rastafarians in Jamaica.
The exhibition marks the culmination of several months of detailed research and work to collect and document numerous images and historical narratives of the rise and global influence of the indigenous Rastafari Culture. It represents a collaborative effort between the Institute of Jamaica (IOJ) through its National Museum Jamaica division in partnership with the Rastafari Millennium Council.
IOJ curator David Stimpson collaborated with Ras Anthony Witter, Rastafarian oral historian and artist, to develop the exhibition. "All of the work has been done in consultation with the Millennium Council, Rastafari Consultation Committee, and through direct conversations with the various Mansions of Rastafari," noted Stimpson.
Travelers to the island can also learn about Rastafari culture by visiting the Rastafari Indigenous Village in Montego Bay. At the village, visitors can experience the culture, language, music, dress, spirit and lifestyle of Jamaica's Rastafarians. Visitors will also learn the self-sustaining and eco-friendly habits of the Rastafari people. The village is interactive and includes a tour of medicinal herbal gardens, arts and crafts and musical experience through drum rhythms and ancient chants. Those interested can visit www.RastaVillage.com.
The year-long exhibition runs through to July 2014 and information can be found on the Institute of Jamaica's website.
Jamaica Tourist Board, www.visitjamaica.com