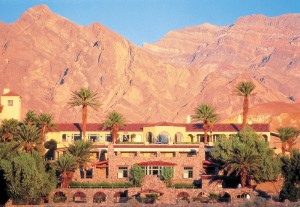 Furnace Creek Resort, a lush oasis located in one of the most ruggedly beautiful parts of California, has introduced 30 percent discounts on select rooms to usher in the park's peak fall season, when temperatures are moderate and travelers tend to take full advantage of Death Valley's wide-ranging outdoor adventures.
These "Prospector Rates" are available at the family-friendly Ranch at Furnace Creek and the upscale Inn at Furnace Creek. The Ranch is open year round and features a wide range of activities, restaurants and retail operations as well as 224 rooms and cabins in a casual setting on the floor of Death Valley National Park. A member of the Historic Hotels of America, the Inn at Furnace Creek is open from mid-October through mid-May and is a AAA Four-Diamond-rated property with 66 rooms and suites, fine dining, a flow-through swimming pool and a terrace offering some of the finest sunsets in the West.
"As the seasons change from summer to fall, those of us who live here become aware of gradually changing light and colors on the park's famous formations throughout the day, and cooler, light-jacket temperatures by night," said Rich Jones, general manager of the Furnace Creek Resort.
"This is the time of the year when we'll see dedicated star-gazers lingering outside well into the evening as they watch our famous dark skies sparkle, and dedicated golfers play a second, hopeful round before gathering at the 19th Hole to compare notes."
Prospector rates are available at the Ranch on select dates beginning Tuesday, August 27 through Sunday, December 15. The Inn will offer Prospector Rates when it opens for the season Oct. 13.
Furnace Creek Resort, www.furnacecreekresort.com