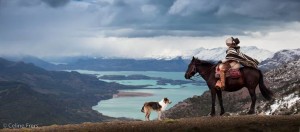 El Cóndor Estancia is a one of a kind as the visitor gets immediately seduced by the wildness and remoteness of these lands which seem almost inaccessible. It is located on the shores of San Martin Lake, 275 km north from El Calafate airport. The many inlets and peninsulas of the lake give an incredible view of the landscape, which colours depends on the sunlight and the height of your vantage point. Each glance is surprising. The lake was named by no other than Perito Moreno after the liberator General San Martin. Nowadays, there are 40000 has of pure nature protected by a conservation project that allows the visitors to enjoy the exploration of an unspoilt land.
The way from El Calafate to Tres Cruces is a paved road; from Tres Cruces to the Estancia there is a gravel road, which had kept impeccable all along last season. Actually, the road is part of the adventure: it seems to continue into the sunset and the traveller feels to be a part of the place. The road borders the southern shore of the lake through a steppe landscape that suddenly changes and shows the impressive mountain chain of the Maipú Peninsula. Very wild, the road arrives to an ancient poplar groove that announces the entrance to the ranch house. Now the passenger can live from the very inside these pristine lands, dominates by the Condor, lord and master of the place.
The main house has 6 bedrooms and the maximum capacity is 14 persons. The house date back to 1912 and keeps the typical patagonian architecture. The warmth and spontaneity of the place and the hosts guarantee the guest to feel at home during his stay.
Jimmy Radboone was the first settler in the region and his story seems to be a movie one. The visitor can immediately imagine the bravery of the man and woman that first live in this remote and beautiful area. What made Jimmy to escape to the far away lands? His incredible story was depicted in a book that describes his life.
There is much more to tell about Estancia El Cóndor: about all the different activities that the visitor can carry through during the stay, as the regular hours rides to La Nana cabin, in the way to the border with Chile but also about its history, which remains still open to each guest that want to leave his mark on it.
El Cóndor Estancia, www.cielospatagonicos.com