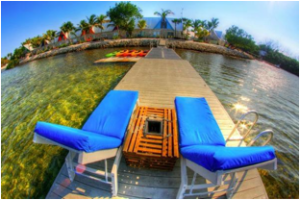 Key West is famous for Duval Street, a vibrant and eclectic mix of bars, restaurants, shops and street vendors, but for many visitors, downtown is not the ideal place to rest their heads after a long day of fun. Located just two miles from downtown, the new Ibis Bay Beach Resort is the complete opposite of contemporary Duval Street. It's Key West as it existed in the 1950s, a studied blend of contemporary conveniences and technology set in an environment that evokes Hemingway and Havana.
With white sand beaches, plentiful hammocks, updated rooms with local and Havana-influenced art and movie posters, plus a fabulous fresh seafood restaurant and on-site FunDesk booking service for every activity on the island, Ibis Bay is the Key West destination.
As one of the island's only beachfront resorts with direct water access for swimming, snorkeling and watersports, Ibis Bay offers the best of both worlds for families, honeymooners and anyone who is excited by the feel of a non-chain hotel. One of the original touches is the wildlife on the property — guests are greeted by a friendly talking macaw, they can feed two tortoises that were rescued by the owners, and there are many locals birds and iguanas that frequent the beaches.
Conservation is a theme that runs through the entire renovated 1956 resort, including to the front desk that was fashioned from a shipwreck that the owners salvaged from the bay. Havana-inspired art adorns the walls of every room, which also feature stylish Balinese sarongs strung across each bed that guests can wear during their stay. The Stoned Crab restaurant serves Key West's best stone crab dishes year-round and Ibis Bay Watersports offers on-site activities including jet skis, snorkeling, and exclusive Nightboarding illuminated paddle board and kayak tours. With all of the amenities at Ibis Bay, many guests get everything they want out of their island vacation right at the resort. It even offers in-house rentals for scooters, bicycles and electric cars for exploring the island.
"We don't want to be the Ritz Carlton," owner Chris Holland emphasized, "and have that hotel chain sameness because it's so boring! We're looking to provide travelers with a unique experience that allows them to enjoy the Key West of the 1950s while utilizing the advantages of modern technology to ensure a pleasant and fun-packed stay. From The Stoned Crab restaurant that had two of its own fishing boats delivering daily catches of local fish, lobster, shrimp and crab to the activities and rentals available on site, we've given travelers the ultimate island retreat that stands in stark contrast to Key West's busy downtown."
IBIS BAY Beach Resort, www.ibisbayresort.com
###