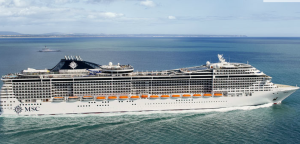 Be a part of MSC Divina's exclusive North American debut on November 20th as she sails on her maiden voyage from PortMiami. With limited availability, the extraordinary 3-night sailing will feature an unforgettable sail-away party with complimentary signature cocktail, spectacular fireworks display, photo opportunities and guest appearance by the MSC Diva, MSC memorabilia gifts and a slew of special performances.
As a special surprise, guests sailing on November 20th will be among the firsts to experience several new, exciting features. In the area that previously hosted the Tex Mex specialty restaurant and the Sacramento Hamburger House, MSC Divina will now showcase two entirely unique Eataly dining venues; the upscale Ristorante Italia and spectacular regional steakhouse, Manzo, fashioned after the famed restaurant in Eataly's Manhattan location. Eataly was founded by Oscar Farinetti in 2007 and launched in the U.S. in partnership with celebrity chefs Mario Batali and Lidia and Joe Bastianich.
MSC Divina will also be the first ship to offer Aqua Cycling at sea. Reported as this summer's latest fitness craze by Extra TV and highlighted on Good Morning America, New York Times and Time Magazine, among other media, Aqua Cycling will allow MSC Divina guests to take spinning to new heights while cruising the Caribbean.
Unlike any other luxury onboard experience, MSC Divina will also feature the MSC Yacht Club for the first time in North America. Our unique "ship-within-a-ship" will now be available in the Caribbean for guests looking for unparalleled indulgence, luxury and comfort. From personal butler, 24-hour concierge service and complimentary select wines and spirits available any time of the day, guests booked in the MSC Yacht Club Suites are pampered throughout the MSC Yacht Club's exclusive lounges and pool area. This oasis of premium tranquility provides several private venues, including Le Muse panoramic restaurant, Top Sail Lounge, pool and relaxation area as well as private access to the MSC Aurea Spa.
MSC Divina, www.msccruisesusa.com