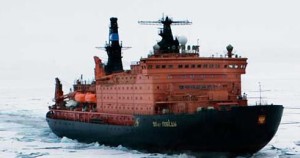 For the 100th time in history, the North Pole was reached on July 30, 2013. The voyage by Poseidon Expeditions/Expedition Cruises aboard the nuclear icebreaker 50 Years of Victory (Russian name: 50 Let Pobedy) achieved the feat.
Icebreaker expedition cruises offer the experience of discovering high Arctic regions and the North Pole. The achievement on July 30 is a testament to the experience and skill of the company, its staff and the icebreaker crew.
The company's cruises are a combination of learning, adventure, comfort and incredibly positive emotions, experienced by travelers in pristine Arctic surroundings. Modern technologies, philosophy and management make this kind of voyage responsible travel: People are taught to care about ecology and the environment.
50 Years of Victory is a real working icebreaker. During the summer months it is used for travel; its main use the rest of the year is in scientific research and supplying ships in the high Arctic.
For Antarctic cruises, the small and luxurious Sea Explorer is a perfect choice. It provides luxurious accommodations, a unique atmosphere, active exploration of Antarctica and unforgettable adventures.
Poseidon Expeditions/Expedition Cruises, www.expedition-cruises.com