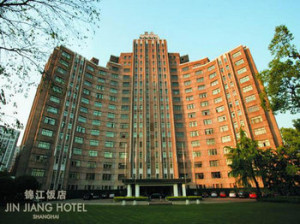 Encompassing four large European-style buildings of 30,000 square meters, the Jin Jiang Hotel in Shanghai boasts a grandiose historic feel along with excellent service.
West of the Bund (4 km) and east of the Hongqiao airport (14 km), the Jin Jiang Hotel is not only cheaper than its competitor across the street but offers many of the same attributes, including two gardens ideal for strolling and original period buildings that are in keeping with the French Concession location.
Not to be confused with the modern Jin Jiang Tower, this hotel is a functional meld of four main buildings. The original 1929 Cathay Building is a European Gothic structure containing 193 classic guest rooms, and the 1931 Grosvenor House is an art-deco copy of New York's Barday-Vessey Building, with 31 opulent (though outdated in terms of technology) suites.
The 1959 Bauhaus-style grand hall is capable of hosting meetings of up to 600 people, and the newer Jin Nan Building contains 120 of the hotel's cheapest standardized rooms. Consequently, guests here range from tourists on budget rates to powerbrokers operating out of one of the fine suites.
The refined marble lobby is surrounded by a gallery. Tasteful art-deco accents are visible in the furnishings and decor. A small 24-hour restaurant is in back. A barrel-vaulted winter-garden lounge rings the gallery reached by a white marble staircase at the hotel's entrance.
The rest of the dining venues occupy the upper three floors of the main tower. The Chinese restaurant enjoys an excellent reputation, particularly for dim sum, and the small ExteriorSichuan and Western eateries add variety though regulars suggest sticking to Chinese fare. The nightclub has character, with a smoky British feel accompanying the karaoke.
A sauna and small indoor pool are on-site, and mostly uninspiring souvenir shops are spread throughout the grounds. The ground floor Jin Jiang Grand Hall can hold 300 people and features acceptable technology like a simultaneous interpretation system and video capabilities. Additional conference rooms accommodate smaller groups. Parking is free for guests.
Tiled baths provide average-sized tubs but the more-expensive lodgings in the Cathay Building have more atmosphere with Chinese desks, shuttered windows, high ceilings, walk-in closets and armchairs that are more attractive to look at than they are comfortable to sit in. Suites add floor-to-ceiling windows and mirrors plus balconies, and all beds are draped in crisp white duvets.
High points of these units are the red marble baths, which boast old-fashioned fittings, deep tubs and stall showers. Low points are the solid carpeting showing stains, bare walls and old-fashioned TVs. All rooms feature complimentary wireless high-speed Internet access, minibars, safes, dual-line phones Lobbywith voice mail, massaging showerheads, air conditioning and coffeemakers. Executive category rooms are afforded a happy hour in the lobby plus complimentary breakfast in the lounge.
The central Grosvenor House is reminiscent of a prewar U.S. luxury apartment building and has been the residence of choice for several U.S. dignitaries. (Nixon met Zhou En-lai here in 1972.) Its 15th-floor VIP Room suggests a gentlemen's club, complete with dining and function rooms.
Apartments themselves have living rooms with substantial European furniture and moderate kitchens with refrigerators, ovens and hot plates. Floor-to-ceiling windows are lovely additions.
Full marble baths have wonderfully large tubs, stall showers, reproduction fixtures and enough toiletries to stock a drug store. Room service runs 24 hours a day. Balcony suites feature outdoor terraces. One quarter of the rooms is designated smoke-free; pets are not permitted.
Jin Jiang Hotel Shanghai, jj.jinjianghotels.com/portal/jinjiang_en/jjindex.aspx