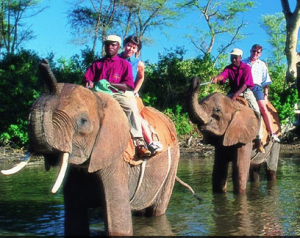 Veteran African travel outfitter Great Safaris is launching a new unique travel experience in 2014. On their new African Elephant Safari and Cruise, travelers will visit the Victoria Falls on the border between Zambia and Zimbabwe, cruise the Chobe and Zambezi Rivers on a luxury cruise boat and explore South Africa's Kruger National Park atop an elephant.
Great Safaris guests will spend two nights atthe Elephant Camp, luxury tented suite, at one of the largest waterfalls in the world, Victoria Falls. Situated within and bounded by the Masuwe River and the Zambezi Gorges, Elephant Camp offers up breathtaking views of the Victoria Falls spray. The Elephant Camp is a luxury and intimate lodge under canvas within easy reach of Victoria Falls and all its attractions and activities, yet secluded in its own private game reserve so as to allow close-up encounters with wildlife.
Heading on a river cruise through Botswana, travelers stay aboard the Zambezi Queen for three nights. This river cruise boat is unique in that it's a sophisticated, elegant experience that has not lost the essence of all that is uniquely African. The Zambezi Queen is all about pampering, indulgence and superior comfort.
Floating down the great Chobe River guests will see the natural wonders synonymous with Africa's raw wilderness. These waters divide Namibia's Caprivi Strip from Botswana's Chobe National Park, and its exotic banks boast one of the densest populations of wildlife on the African continent. Teeming with wildlife, this National Park sprawls across the lush African bush, and is home to the largest populace of elephants in the world. Along with the elephants, leopards and lions, huge groups of buffalo, waterbuck, roan, eland, sable and giraffe can be spotted all from your own private, air-conditioned suite.
Travelers fly down to South Africa to Kruger National Park, with an overnight in South Africa's largest city Johannesburg. Guests will make Camp Jabulani their base camp as their explore one of the most famous African game areas in the world. Camp Jabulani is a perfect translation of the African bush, seamlessly blending classic and elegant interiors. The accommodations are fit for princes and kings, but warm enough to make the most down-to-earth guest feel completely at home. Camp Jabulani's personable staff aims to indulge, spoil, pamper and entertain, but most importantly, to share with them the story and the experience of the elephants at their camp.
Twice daily game drives put you within touching distance of lion prides, unpredictable buffalo and herds of elephant. Highly qualified and knowledgeable guides will take travelers to the best areas of the park and even take guests on a night safari on elephant back, the ultimate safari experience.
With weekly departures in 2014, the land costs for Great Safaris new Elephant Safari and Cruise itinerary is $6,995 per person, sharing accommodation from January through March and $7,495 per person, sharing accommodation from April through December.
Great Safaris, www.greatsafaris.com