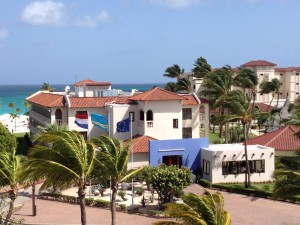 The Caribbean Journal has announced their "Top 2013 Greenest Hotels" list, and Aruba's Bucuti & Tara Beach Resorts is featured among the top 10 hotels, taking third place.
"We are truly honored to be acknowledged among the top 10 greenest Caribbean hotels and are thrilled to represent Aruba as the island's only resort to receive this distinction from Caribbean Journal," said Bucuti's owner Ewald Biemans. "It also is very special to be recognized as one of the Caribbean's pioneering green resorts, as we have been at the forefront of the green movement in hospitality for the past 25 years and are forever committed to preserving Aruba's rich culture and environment."
The resort's Green Team, led by owner Ewald Biemans, has set the benchmark in sustainable tourism, earning the global recognition of more than two dozen environmental awards and certifications. Most recently the resort received the Highest Achievement Award as the top performing sustainable travel and tourism business in the Caribbean by Green Globe Certification in addition to previously receiving both Travelife Gold and ISO 14001 certifications. The desire to give back to the island community and to preserve the environment stems from Biemans' passion to conserve and sustain the beauty of the tropical destination.
Additionally, Bucuti's Elements restaurant recently began offering guests the opportunity to enjoy natural and organic dining in the presence of breathtaking views. Elements is an ideal complement to the serene environment for which Bucuti has become known. Wholesome menu options feature genuine, certified organic options and natural products offered through three distinct menus: world cuisine, organic and natural, and vegan and vegetarian.
Bucuti & Tara Beach Resorts, www.bucuti.com