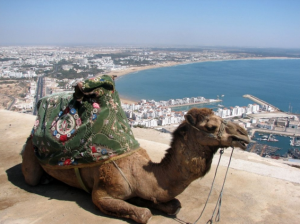 Agadir is Southern Morocco's most visited city and a very popular tourist destination. Its sandy shores, modern coastal city "feel" and dozens of hotels are now a huge attraction. Soak up the sun on the well-maintained beaches of Agadir.
Palm-lined boulevards and beachfront bars add a decidedly western resort feel, amplified by the hoards of Europeans who flock here in the winter months. Ride a camel, rent a beach buggy or check out the Suq al-Had market, filled with the spices of North Africa. Take the 20-minute walk up to the ruins of the Agadir Kasbah for expansive city views.
Perfectly located in front of the beach, the Agadir Beach Club Hotel is close to the train station. The hotel is also nearby the main streets of the city surrounded by bar, restaurants and other commodities.
This waterfront hotel features plenty of well-equipped guestrooms and suites that are nicely decorated. You can witness beautiful views of sea or the pool from the rooms. Specially designed rooms for the easy access of physically disabled guests are also available.
Fully equipped conference rooms are also available for guests travelling on business. Recreational facilities at the hotel premises include a tennis court, gymnasium, swimming pool and sauna.
As for things to do and see, The Valley of the Birds is a narrow strip of parkland draws a large variety of bird species all year round.
A number of aviary's, a zoo, waterfall and a playground for children make this a great venue for families.
The lovely Jardim de Olhao outdoor area has a well groomed garden and children's playground. The walls and structures in the garden are styled to the original Berber Style. There's a small gallery that exhibits local artists as well as a cute cafe-restaurant.
The Ancienne Talborjt plateau just west of the city center is somewhat of a shrine for friends and family of the over 15 000 people killed in the 1960 earthquake. A small mosque and an uncompleted memorial garden provides a somber setting for relatives and friends to walk and pray in remembrance of their lost loved ones.
There are plenty cafes and restaurants that stay open quite late. Catering for all budgets, there are many restaurants that serve traditional Moroccan cuisine. Otherwise, if you feel like something 'ethnic', you'll be able to find an eatery with alternative choices.
Foreign Independent's Tour package includes:
Roundtrip Transfers between Airport and Hotel.
6 nights in Agadir Beach Club
All meals, drinks, snacks, activities or access to activities. .
Travel dates available between September 2013 and October 2013 with prices from $919 per person.
Travel Agents earn 13% commission. FAM rates are also available from $729 per agent.
Foreign Indepedent Tours, www.fittours.com