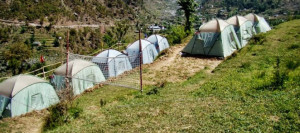 Holiday Moods Adventures has launched its second adventure based campsite "Snow Monk Camps" near Dharamshala in the Khauli River Valley, district Kangra, Himachal Pradesh.
Snow Monk Camp is good for school groups, corporate offsites, families and ofc ourse the adventurer seeking a great experience. The camp is situated at the top end of the Salli village on the road leading to Kareri village. The road will soon be connecting to Ghera and Naddi villages of Dharamshala in the near future. The view from the camp is panoramic. It offers sweeping view of the Khauli valley and the river with snow clad mountains to the north, spell binding sights of sunset towards the Khanol village to the west and spectacular sight of the huge reservoirs of Pong & Ranjit Sagar to the south.
The autumn season is round the corner starting from September through December, after which the camp will again reopen for spring in March.
Snow Monk Camp, www.snowmonkcamp.in