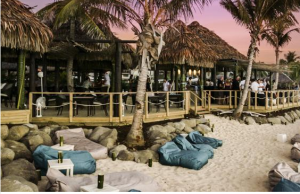 Karma Royal Group has handpicked a stunning, white sand beachfront location on the tropical shores of Fiji's Denarau Island to expand its Karma Beach Club concept. Karma Beach Fiji offers exclusivity, world-class dining and entertainment and a new level of oceanfront enjoyment in an indigenous Fijian setting.
"We are absolutely thrilled to be adding Fiji to our stellar portfolio of innovative, sexy beach clubs around the world," remarked John Spence, Chairman and Founder of Karma Royal Group. "Our beach clubs appeal to the global traveler who could be described as a 'bon vivant', relaxed, sophisticated and somewhat bohemian, yet who expects the best of everything. Karma Beach Fiji, designed around the concept of casual-chic dining and sophisticated fun and entertainment defining our beach clubs, and already blessed with its destination's natural splendour, is no exception.
The design inspiration for the 400-square metre Karma Beach Fiji derives its roots from the traditional Fijian bure, ethnic bungalow-style dwellings typically made of wood and straw, blending authentic indigenous materials with cosmopolitan luxury, delivering the allure of the quintessential island lifestyle. Staying faithful to sustainable architecture and design inspired by Fiji's beautiful coastline, the bure's ceiling is all-natural thatch, with no artificial or synthetic materials. As an homage to the site's previous incarnation as a traditional turtle hunting ground for village ancestors, vonu (turtles) of various colours and made of printed mangi-mangi (sennit rope) occupy the tops of the bures.
Karma Beach Club, www.karmabeach.com