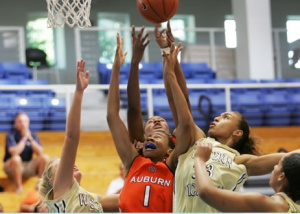 It's a slam dunk for college hoops fans. Those attending this year's 2013 Paradise Jam tournament will enjoy pre-season NCAA basketball competition in a Caribbean beach locale and save up to 20% at Bolongo Bay Beach Resort.
During the 2013 Paradise Jam, November 22 – 30, 2013, Bolongo Bay is offering 20% off room-only rates or 15% off its popular All-Inclusive, featuring unlimited premium cocktails and all dining a la carte including lobster and steak. The savings are available in both room categories – Ocean View or Beachfront located literally steps from the sand.
Paradise Jam, presented by Ezybonds Global Payments, is one of the premier pre-season destination NCAA basketball tournaments. Teams travel to the tropical paradise and tip off on the $11 million state-of-the-art University of Virgin Islands Sport and Fitness Center.
The Men's Basketball Tournament will be November 22 – 25, 2013, and participating teams are La Salle, Loyola Marymount, Maryland, Marist, Morgan State, Northern Iowa, Providence and Vanderbilt. The Women's Tournament begins Thanksgiving Day, November 28, through November 30. Scheduled teams are Central Michigan, Duke, Kansas, Memphis, Syracuse, Texas A&M, Texas and Xavier.
Off the court and on the sand at Bolongo Bay, fans can recap games over ice-cold beers and cocktails at Iggies, one of the Caribbean's best beach bars, and test their own athletic abilities with complimentary Discover Scuba Diving in-pool lesson and complimentary non-motorized water sports including Hobie Cats, stand up paddle boards, windsurfers, kayaks and snorkel gear.
With the discounts daily rates begin at $237.60 for the room-only (regularly $297) or $467.50 for All Inclusive (regularly $550) for two guests. Room-only rates are subject to tax, service charge and energy surcharge. All Inclusive rates include tax and service charge, but subject to energy surcharge.
No passports are required for US citizens to travel to the US Virgin Islands and many direct flights are available to St. Thomas.
Bolongo Bay Beach Resort, www.bolongobay.com
Pardise Jam, www.paradisejam.com