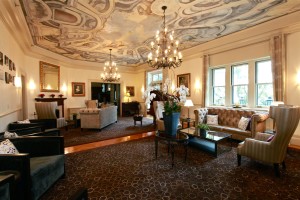 Gilbert Baeriswil, General Manager of the newly renovated Castle Hotel & Spa, announced that the historic landmark property will introduce special packages that provide exclusive "property buyouts" for meetings, corporate retreats, special events, and weddings.
According to Baeriswil, "the exclusivity & intimacy of Castle Hotel & Spa's secluded 11-acre property lends itself as a perfect venue for personalized privacy with customized menus and activities, whether for a social or corporate event."
Castle Hotel & Spa, recently named among U.S. News 2013 Best Hotels in the USA, is set on a sprawling hilltop overlooking the Hudson River. The medievalstyle structure was meticulously transformed into a luxury hotel, offering guests royal-quality service, luxurious guestrooms, and the award-winning Equus restaurant which features Auberge-style, natural French-inspired cuisine. The luxurious new THANN™ Sanctuary Spa is an oasis of peace and tranquility where a holistic treatment approach aims to rediscover inner physical and mental wellness. Only 25 miles north of Manhattan, Castle Hotel & Spa opened as a luxury hotel in 1997; 16 years after being designated a historic landmark.
Castle Hotel & Spa is conveniently located with easy access to all major airports including Westchester County Airport, John F. Kennedy International Airport, LaGuardia Airport, and Newark Liberty International Airport. The Tarrytown train station on the Metro North-Hudson Line is minutes from the property.
All exclusive buyout packages are based on a detailed consultation with the Castle Hotel & Spa Private Events Team in order to provide a customized and personalized package that will suit specific needs.
Each package is priced according to specific needs. Exclusive Property Buyout options include the FullProperty Buyout which consists of all 31 guest rooms and suites, the private wing of the property, Equus restaurant, the manicured grounds — including the pool and grotto bar — and THANN Sanctuary Spa. This package provides exclusive access only to guests of the one event on property. No other guests are on property during this customized package.
Package May Also Include:
A security team staffed at the main entrance to the property to maintain privacy
Privatization of our 11 acres and use of our nature trail
Personalized butler service for all guests upon arrival.
Customized food and beverage menus throughout the event based on consultations with
Executive Chef Marc Lippman.
Private customized event options including entertainment, décor, cooking classes, yoga classes,
poolside barbecues, and seasonal party planning with the Private Events Team.
Charter a boat ride along the Hudson River and tour of New York City.
Other options include the Private Wing and Guest Rooms Privatization, a popular package for weekend weddings or corporate events. Equus restaurant remains available to outside guests. All meeting and event facilities are also available, and THANN Sanctuary Spa is also available to guests.
Castle Hotel & Spa, www.castlehotelandspa.com