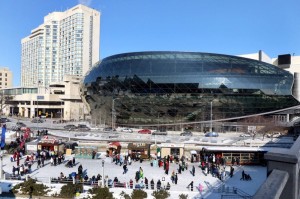 Ottawa's impressive resumé for hosting sporting events and large scale meetings is growing stronger with every bid. In fact, Ottawa's resumé just got a bigger boost. The Martin Prosperity Institute – the world's leading think-tank on global economic prosperity – ranked Ottawa-Gatineau #1 among global cities in the creative economy measuring talent, technology, tolerance and quality of place.
Sporting events are elevating Ottawa's reputation as a prime hosting destination. Since the creation of the Events Ottawa office in August 2011, Events Ottawa has been actively pursuing sporting event opportunities through a proactive approach of developing relationships with national and international sport federations.
Having recently hosted successful events including the ITU Duathlon World Championships and the Canadian Gymnastics Championships, more and more Canadian athletes are getting the chance to compete closer to home in these nation- and community-building events.
"When sporting events are hosted in Ottawa, there is an energy that livens up our city even more. Participants, visiting spectators, organizers and locals alike see an Ottawa with verve. This verve is the catalyst for future sporting events with even more returns," says Noel Buckley, President and CEO of Ottawa Tourism. By year end 2013, the sport and cultural events attracted by Events Ottawa will have generated over $45 million in economic impact.
Since the opening of the Ottawa Convention Centre in April 2011, Ottawa is gaining even more visibility as a destination truly capable of hosting conventions on the world stage. This summer, Ottawa Tourism and the Ottawa Convention Centre partnered to host the Professional Convention Management Association (PCMA) Convene Live conference.
"When Ottawa bids more on international conferences and sporting events, everyone wins," said Noel Buckley, President and CEO of Ottawa Tourism. "Tourism-related businesses, including the accommodations sector, restaurants, and retail stores benefit from the increase in visitor spending. Local residents also benefit from the diverse cultural experiences offered by these events."
Ottawa Tourism, www.ottawatourism.ca