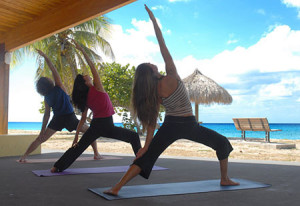 With its new "Elevate Yourself" promotion, the island of St. Lucia is inviting everyone to experience a new level of rejuvenation and relaxation during their third annual Health & Wellness Retreat, November 1-3, 2013. Several leading hotels will welcome attendees with value-added packages and special rates for the three-day retreat, including free nights and savings of up to 30 percent off.
The three-day Retreat includes daily spa treatments both beachside and at resorts like The BodyHoliday and The Landings, a number of classes and wellness seminars led by renowned experts held on Pigeon Island National Park and a visit to Saint Lucia's Sulphur Springs. Prices start at $595 per person. A day rate of $200 per person is also available.
"I'm really excited to be a part of the Elevate Yourself retreat in St. Lucia," said Cat Cora, the first and only female Iron Chef "I'll be focusing on cooking demonstrations, presenting some of my favorite recipes for energizing yourself to look and feel your best."
Guests will have the opportunity to recharge mind, body and soul, through specially planned workshops like the sunrise group meditation led by Gabrielle Bernstein.
"I can't wait to go to St. Lucia. It's the ideal location to reconnect with yourself, to relax and let go of your troubles," said Bernstein.
Additional participating experts include Dr. John Douillard D.C., Ayurvedic expert; Dani Devaux, creator of Blood, Sweat and Tears fitness program; and John Schumacher, founder and director of Unity Woods Yoga Center and one of only 13 certified advanced lyengar yoga teachers in the United States.
Starting as low as US $70 per night, packages include breakfast and are available at the following participating properties:
Bay Gardens Beach Resort www.baygardensbeachresort.com
· 30 percent off room rates
· Complimentary breakfast included
· Rates begin at $140 per night, per couple in a deluxe pool view room
· Rates may vary depending on time of booking and accommodations
Bay Gardens Hotel www.baygardenshotel.com
· 30 percent off room rates
· Complimentary breakfast included
· Rates begin at $77 per night, per couple in a superior room
· Rates may vary depending on time of booking and accommodations
Bay Gardens Inn www.baygardensinn.com
· 30 percent off room rates
· Complimentary breakfast included
· Rates begin at $73.50 per night, per couple in a superior room
· Rates may vary depending on time of booking and accommodations
Chez Marie Alish
Rates are $70 per night
· For more information on availability and rates, call 758-450-0482
Coco Palm www.coco-resorts.com
· Rates are $125 per night plus 18 percent gratuity for garden view room
· Rates are $132 per night plus 18 percent gratuity for pool view room
Coconut Bay Beach Resort cbayresort.com/
· Room rates begin at $198, per night, per person Harmony Premium Oceanview room
· One spa treatment per person, per day excluding day of guest arrival and departure
· Access to daily exercise activities such as yoga, pilates, and aqua aerobics
· Personal training and fitness instruction (by appointment)
· Breakfast, Lunch, Dinner and Snacks in a choice of four restaurants plus beach grill
· Premium brand cocktails in a choice of six bars including swim-up bar
· Champagne and cold towel check-in
· Nightly events like mixology classes, casino night, reggae pool party, adults-only quiet pool and bar
· Airport transfers
· Book by October 15, 2013
· Travel between October 1 through December 20, 2013
Crystals www.stluciacrystals.com
· Book seven nights stay in a one bedroom ocean view cottage with private pool
· Full body massage per couple
· One hour Yoga lesson
· Tour of rain forest and waterfall
· Tour of Volcano and Mud Baths
· Complimentary breakfast is included
· All-inclusive package priced at $1,880 per couple
· Travel between October 25 through November 15, 2013
Harmony Suites www.harmonysuites.com/
· Four nights stay, all taxes and service charges included with the "Mind & Body in Harmony" package
· Rates are $300 per person based on double occupancy
· Daily breakfast and dinner
· A full body deep relaxation massage
· Choice of a Yoga class or a Shotokan Karate class
· Travel through the month of November
La Haut Resort www.lahaut.com/
· Book five night stay in a superior deluxe room
· Complimentary breakfast daily
· Complimentary infused, blended drink from La Haut Herb Garden
· Complimentary dinner on three select nights of stay. Dinner inclusive of one glass of organic red or white wine
· Tour of Sulphur Springs and the Diamond Botanical Gardens with complimentary lunch served at resort upon return
· Tour of Gros Piton including round-trip transportation and health-infused packed lunch
· One complimentary one hour in-room Swedish body massage per couple
· Round-trip airport transfer
· Travel between November 1 through November 30, 2013
· Book from now until October 30, 2013
· Offer is valid on direct bookings only and cannot be combined with other specials
· Package priced at $1,720 per couple inclusive of service charge
Rendezvous www.theromanticholiday.com/
· Rates begin at $257 per night for premium garden view room
· Rates may vary depending on type of room booked
· Travel between October 28 through November 8, 2013
· Book from now until September 30, 2013
· Booking includes Harmony Suites massage and a private yoga session with a personal trainer
· Promotion code SLH&WRDV-13 to be used when booking
Royal by Rex Resorts www.rexresorts.com
· Rates begin at $265 per day, single occupancy, plus 18 percent gratuity in deluxe Suites and sea view suites
· Rates begin at $295 per day, double occupancy, plus 18 percent gratuity for deluxe suites and sea view suites
· Rates begin at $460 per day, plus 18 percent gratuity, for premier Suites
· Complimentary breakfast daily
Smuggler's Cove Resort & Spa www.smugglersresort.com/
· Standard room rates begin at $195 per night for single occupancy and $125 per night for double occupancy, plus 18 percent gratuity
· Deluxe Garden View room rates begin at $215 per night for single occupancy and $140 per night double occupancy, plus 18 percent gratuity
· Superior Deluxe Garden View room rates begin at $230 per night, single occupancy and $155 per night, double occupancy, plus 18 percent gratuity
· One Bedroom Suite rates begin at $260 per night single occupancy and $170 per night double occupancy, plus 18 percent gratuity
Sugar Beach, A Viceroy Resort www.viceroyhotelsandresorts.com/sugarbeach
· Book four night stay in a Luxury Villa Room (or higher) and receive the fifth night free
· Complimentary daily breakfast per couple
· Complimentary bamboo massage and manicure OR pedicure per booking
The BodyHoliday LeSport www.thebodyholiday.com
· All-inclusive rates begin at $395 per night, per couple in luxury ocean view suites
· Rates may vary depending on type of room booked
· 25 percent off personal training, one to one golf and tennis lessons
· 20 percent off Ayurvedic services
· 10 percent off all Ayurvedic health and wellness products
· Book from now until September 30, 2013
· Travel between October 25 through November 12, 2013
· Promotion code BHDOHNW13 to be used when booking
Windjammer Landing www.windjammer-landing.com/
· Stay up to four nights in a premium ocean room, per couple starting at $3,129, all-inclusive
· Stay up to seven nights in a premium ocean room, per couple starting at $4,892, all-inclusive
· Travel between November
· Receive sparkling wine and flowers
· Includes airport transfers
· Private Dining
· Foot ritual and couples massage
· Package subject to 18 percent service and tax
· Book by October 20, 2013
· Travel between November 1 thought November 7, 2013
Visit St. Lucia, www.stlucianow.com