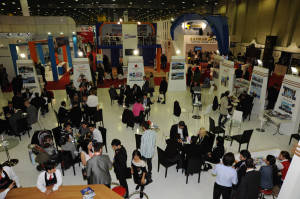 Professionals of the tourism industry in the world are already looking forward to the East Mediterranean International Travel & Tourism Exhibition (EMITT), which is going to be held 18th time at TÜYAP between January 30 – February 2, 2014. As of September 2013, 67 countries and 4000 tourism companies have applied for the participation in 18th EMITT Tourism Exhibition. The number of countries is expected to exceed 70, and the number of international institutions and organizations applying for the participation is expected to exceed 4500 in the forthcoming months.
EMITT Exhibition is supported by the Ministry of Culture and Tourism, ?stanbul Metropolitan Municipality, Turkish Union of Chambers and Commodity Exchanges (TOBB), 6 professional chambers, 36 associations and foundations. Sectoral circles are already sure about the fact that 18th EMITT Exhibition will break a new participant and visitor record in 2014.
The 5th biggest tourism exhibition in the world with the aim to rank among the top 3 in the upcoming years, EMITT Exhibition consists of the participants such as tour operators, traveling agencies, hotels and hotel chains, airlines, cruise companies, touristy cities, international promotion offices, rent a car firms, hospitals and all the other institutions related to the tourism industry. Breaking new records every year, EMITT Exhibition stands out as the only tourism exhibition in the region which realized a growth more than 10% over the years.
Ayd?n remarks that when compared to the record-breaking 2013 EMITT Exhibition, 2014 EMITT Exhibition will witness a much wider participation by the countries. Among the new participants, Ayd?n mentions the names of the counties such as Seychelles, Cambodia, Mongolia, Bosnia and Herzegovina, Mauritius and Croatia.
EMITT Exhibition witnessed a huge participation both from Turkey and all around the world in 2013, and achieved a significant success with 131 thousand visitors, thus reached a record level of participation. Getting ready for breaking a new record with a much larger participation in 2014, EMITT Exhibition hosted 67 countries, 150 touristy Turkish cities, 4.500 international participant, 58.920 professionals and 72.080 vacationers in 2013 in its fairground of 60.500 m2. The total number of visitors increased by 12% when compared to 2012.
EMITT, www.emittistanbul.com