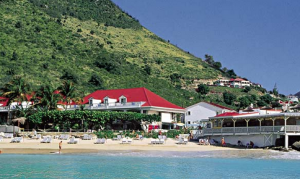 Book a wedding at the Grand Case Beach Club, and when a couple arrives, they'll find that there are "locks of love" to greet them.
General Manager Steve Wright has taken a page from Paris, where lovers traditionally cement their love with an engraved lock, which is added to hundreds of others at various bridges around the city. The Grand Case Beach Club has installed a cable where lovers can attach their locks, engraved with their names, courtesy of the resort.
The Grand Case Beach Club, noted for its innovative concepts and service, has won multiple awards. These include being named to Expedia's "Insiders' Select List," Apple Vacations' "Golden Apple," and Best Medium-size Resort by Caribbean Travel & Life readers.
The resort, located on the ocean adjacent to Grand Case Village, the culinary capital of the island, has a variety of amenities for its guests. These include two white sand beaches; a swimming pool; watersports center; fitness room; tennis court; island boutique; and the Boardwalk, which wraps around a hill overlooking the ocean and connects to the Sunset Cafe, open for breakfast, lunch, dinner and Happy Hour seven days a week. All of its over-size units have a full kitchen and flat screen satellite TV.
Grand Case Beach Club, info@gcbc; www.grandcasebeachclub.com