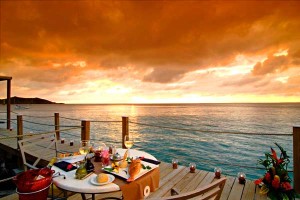 Canadians like St. Martin and the Grand Case Beach Club. For the first nine months of 2013, the resort saw an increase of nearly five percent in Canadian visitors when compared with the same period in 2012. However, for the ten years ending December 31, 2012, there was an increase each year and the trend is certainly continuing, especially with repeat visitors who make up a large percentage of the annual total, according to Ronald C. Muzii, president of Muzii & Associates, Inc., the resort's marketing representative.
"While the heaviest volume is during the winter months, we still have good representation throughout the year," Mr. Muzii said.
"The reasons are many. Our reputation for fine hospitality and service, which have been recognized by Expedia, Apple Vacations, TripAdvisor, Caribbean Travel & Life Magazine and many consumer and travel trade publications, are primary. Our key partners in the travel industry, Westjet, Air Canada, Sunwing, and Transat, also have been one of the keys to this increase."
French is spoken by the staff and throughout the island, and Mr. Muzii noted that the relaxed atmosphere, two white sand beaches, and proximity to Grand Case Village, the culinary capital of the island, are important factors as well.
Included in the room rates at Grand Case Beach Club are use of all non-motorized water sports equipment; bottle of red or white wine on arrival; and continental breakfast daily. All of the units feature a full kitchen and a flat screen satellite TV, and amenities include a watersports center; fitness room; island boutique; tennis court; and the Boardwalk.
Grand Case Beach Club, www.grandcasebeachclub.com