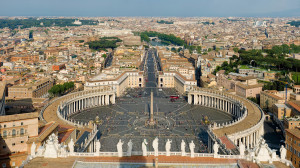 Regina Tours/ 1-800-CATHOLIC will offer two pilgrimages to the April 27, 2014 Vatican Canonization of Pope John Paul II and Pope John XXIII. Regina Tours' seven-day pilgrimage to Rome will depart from New York City on April 25, giving pilgrims a once-in-a-lifetime opportunity to witness Pope Francis canonize two beloved Popes into Saints at St. Peter's Basilica on Divine Mercy Sunday. Pilgrims may opt to extend their tours with two additional days in Fatima for an additional cost.
Throughout the week in Rome, pilgrims will tour the city's many splendid sites. Pilgrims will enjoy escorted tours of some of the Eternal City's most important basilicas, including St. Mary Major; St. John Lateran, the Cathedral of Rome; the Holy Stairs; and St. Paul Outside the Walls. There will also be visits to historic sites like Capitoline Hill, the Colosseum, the Arch of Constantine, Circus Maximus, the Roman Forum, the Spanish Steps and Trevi Fountain. The trip also includes guided tours of world-famous architectural gems such as the Sistine Chapel, St. Peter's Basilica and Vatican Museums.
Pilgrims who opt to extend their tours with a two-day visit to Fatima will have the opportunity to join in the moving Candlelight Rosary Procession beginning in the Chapel of the Apparitions. Pilgrims will visit the Shrine of Our Lady of Fatima, starting at the pristine Basilica, home to the tombs of Jacinta and Francisco and Sr. Lucia. They will also journey to Capelinha, where Our Lady appeared to the shepherd children and discover the hamlet of Aljustrel, the shepherd children's home. In Valinhos, where Our Lady appeared after the children's release from prison, pilgrims visit the church where they were baptized and the local cemetery.
Regina Tours,1-800-CATHOLIC; www.regina-tours.com