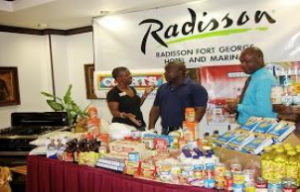 Pat Lamb, Green Team Leader and Eddison Trapp, Community Involvement Coordinator, along with other members of staff organized a food drive campaign for the month of September. The Green team reached out to several businesses and asked them to partner with the Radisson Fort George Hotel & Marina and Santiago Castillo Limited, Unicomer – Courts Belize and Publics Supermarket agreed to partner with the hotel. The initiative stemmed from the hotel's social responsibility and community involvement that ties in with their Responsible Business Action Month which is observed in September.
On September 27, 2013 the items from the food drive were handed over to Mr. Herman Lambey – Principal of Queen Street Baptist Primary School – in aid of their feeding program.
"A big thank you to the Radisson Fort George Hotel & Marina, Unicomer – Courts Belize, Santiago Castillo Limited and Publics Supermarket for the stove and grocery items as these will assist in making the feeding program for the school possible," said Mr. Lambey.
Radisson Fort George Hotel & Marina, www.radisson.com