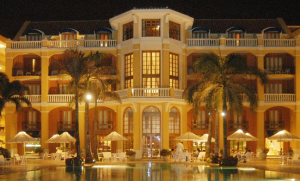 The Fine Hotels & Resorts is welcoming its first Sofitel Legend of the region into its program which is aimed at the most exclusive clients of American Express.
Sofitel Legend Santa Clara adds to the list of the best luxury properties in the world to be accepted in this program, a leader in the luxury accommodation market worldwide. The Fine Hotels & Resorts Program is aimed at the Centurion and Platinum clients, which are cards with unlimited quota and offers a portfolio of over 500 of the world's finest hotels and resorts with a variety of benefits and access to exclusive services and privileges.
In 2012 the Sofitel Legend and The Grand Amsterdam gained entry, in 2013 the Sofitel Legend Metropole Hanoi in Vietnam and in 2014 the Sofitel Legend Santa Clara Cartagena.
"This is a great achievement in order to have greater visibility in the international luxury market, plus we have access to luxury customers who will now have the opportunity to meet not only the Hotel but Cartagena as a destination, which contributes to the development of the city," said Mr. Richard Launay, General Manager of the Sofitel Legend Santa Clara.
Mr. Launay went on to say the addition of Sofitel Legend Santa Clara to the Fine Hotels & Resorts Program from American Express becomes a valuable contribution to the development of the hotel and luxury tourism in Cartagena.
Sofitel Legend Santa Clara, www.sofitel-legend.com/cartagena/en/