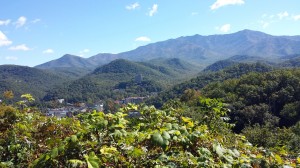 At first glance, a few things don't add up in Maryville, Tennessee, located 30 miles south of Knoxville at the foothills of the Great Smoky Mountains National Park. The city has a mere 28,000 residents yet can attract country-western greats like Riba and Rascal Flatts to its annual Foothills Fall Festival. The mostly-free, three-day event boasts 85 top-notch vendors, a tractor parade and a whopping 1,200 volunteers.
Another mystery is why restaurant giant Ruby Tuesday is headquartered here. No downtown hotels either. Even shopping appears sparse in the six-by-six downtown blocks. But thanks to the officials of Blount County who invited the travel press for a deeper look at sleepy-college-town Maryville and its environs, what became evident was the area has something relaxing to offer. The bonus is welcoming and entrepreneurial folk. Another clue about this inviting place is its moniker: "The Peaceful Side of the Smokies."
"We're not geared for tourism, only for our community," said Bob Hirche, president of the Maryville Downtown Association. "If people don't like crowds, this is the place to be."
Many feel competing with the commercialism and clutter of nearby Gatlinburg and Pigeon Forge would ruin the "peaceful" theme when visiting the nearby Smoky Mountains. It does, however, help to be an insider and know where to visit, eat, shop and rest in Eastern Tennessee.
Downhome Eats
Full Service BBQ in Maryville is aptly named since it's located in a former gas station on S. Washington Street. Bubba, Forest and Rich Man, the powerful smokers, dot the open-air property cooking pulled pork, brisket and ribs every day except Christmas. An astounding 700 turkeys are cooked in 26 hours for Thanksgiving orders. On regular days, well-priced combos are served on outside picnic tables, almost guaranteeing local conversation between bites.
Over at The Market (606 High Street), the foodie experience is homegrown and fun. Popular here is a hormone-free, grass-fed bison or elk salami sandwich or fresh eggs from the Mennonites or farm cheeses and local bread warm to the touch. Twice monthly beer and food tastings fill the place with occasional polka music on hand. But it's the "over 300" beers lining the shelves in the back of the store and on draft that's the winner. A happy customer donated the communal drinking and eating table that he made from a downed pecan tree.
Astute palettes and wine aficionados up their dining experience in the wide-open, knotty-pine and cathedral-ceiling dining room at the Dancing Bear Lodge nestled on 36 acres in Townsend. A recent menu showcased braised pork cheeks with Tasso polenta cake with apple butter and fried black eyed peas served with a Chardonnay 2012 from Rusack Winery. The establishment offers featured wines on weekends, even opening an $80 bottle to sell by the glass.
Peaceful Tennessee Nights
Mike and Becky Johnson somehow took 900 acres close to downtown Maryville, built eight houses in the woods and turned Butterfly Gap Retreat into an adults-only lodging gem that's rarely empty. One house is glass and built in the round; another is handicapped accessible; another will be a tree house. Amenities are fireplaces, porches, air jet baths and no cell phone coverage. Neighbors are deer, raccoon, wild turkey and creeks. The chickens supply eggs for Becky's scrumptious breakfast brought to each house. And the 30-foot, man-made lake the Johnsons created is stocked with fish and swimmable.
Two corporate drop-outs, Jim and Susan Hind, took a large parcel of picturesque land in Townsend that overlooks Rich Mountain and built Richmont Inn to create a couples' nirvana. The cantilever-barn-style main house embraces an authentic Appalachian heritage right down to naming the rooms to honor mountain people. No TVs or phones in the beautifully decorated rooms. "Our concept is romance and getting couples to talk to one another," Jim said during the Inn's nightly Candlelight Dessert. Susan won the Gourmet Magazine's grand prize for her Crème Brulee Kahlua. Weekends a four-course classic fondue is served.
Appalachian to the Core
The tale of Bush's Best Beans is well told at the company's Visitor's Center located in Chestnut Hill, also home to the manufacturing plant. Admission is free, complete with a high-tech movie and a museum highlighting four generations of bean memorabilia. Quality merchandise in the country store is displayed on antique furniture. Save an empty stomach for the café. Recent selections were catfish with French fries and cole slaw. Desserts were plenty with pinto bean pie a favorite.
Mike Clemmer plucking his handcrafted mountain dulcimer while dressed in high-top overalls sets the rural America ambiance in his Wood-N-Strings shop in Townsend. He and his wife, Connie, are surrounded by dulcimers, ban jammers, lap harps and one of the largest selections of hammer dulcimers assembled in one shop. Visit Saturday nights May through September for a toe-tapping free concert on the shop's Pickin' Porch that overlooks a small river. Mike also teaches dulcimer lessons on site.
Maryville's Special Shops
Quaint comes to mind in downtown Maryville where most shops are in renovated historic buildings. Bill Womac, owner of Boyd Thomas fine clothing store, opened for people "needing a better place to shop than a mall." Dandy Lions Gifts took over two floors of a former library to sell its trendy chic and local items. The owner of Roost left a top Knoxville interior design store to open her own. She then "cherry-picked" the best local crafts to finish it off. And kudos to the husband-and-wife team that transformed the old Capitol Theatre for special events. Its coffee shop is open to the public and decorated with movie paraphernalia. Peeks into the theatre are encouraged.
If You Go
East Tennessee and Blount County is centrally located within a day's drive to half the nation's population. McGhee Tyson Airport in Knoxville, located minutes from Maryville, services seven major airlines providing 21 non-stop destinations, including Atlanta, New York, Chicago and Denver, and 140 arrivals and departures and more than 4,000 seats available on a daily basis. Rental cars agencies are available.
Ruby Tuesday is located at the airport and perfected its burger on a pretzel bun here. The goal was to get the passenger in and out in 10 minutes.
Smoky Mountain Tourism Development Authority, 865- 273-1213, 865- 273-1244, tvater@blountpartnership.com