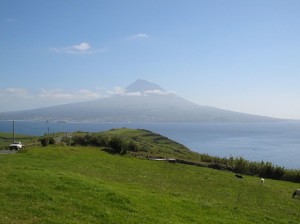 SATA Airlines has unveiled new air, land and adventure packages for the fall and winter – set in the dramatic volcanic landscapes and mild climate of the Azores, a set of Portuguese Islands just 4 hours east of Boston. For 2013-2014 Azores Express is offering 6 night Air & Hotel packages to a choice of 26 hotels on five different islands, starting at just $1099 per week/per person/double.  
Departures are from Boston's Logan Airport and include roundtrip, non-stop air, six nights lodging and daily breakfast. Additional domestic connections are available. Flights depart and return on Tuesdays, Fridays and Sundays and passengers can upgrade from coach to SATA Plus Business-Class for just a few hundred dollars each way. Children under six stay free, and pay only a child's airfare.
Passengers now have the option to add an adventure tour to their trip, including various themed island tours such as exploring crater lakes, rocky coastlines, and volcanic hills on Faial, Terceira and Sao Miguel islands. They can also add whale watching, golf and more. Half and full day excursions come with guides, transportation and some meals.
The packages cost from $1099 per person including taxes (based on double occupancy), and are available through the fall of 2014.
There are six hotels offered on the island of Terceira, two on the island of Faial, two on the island of Pico, and 16 on the island of Sao Miguel. There is one hotel on both Santa Maria and Graciosa. Or visit tow islands in the space of 6 and chose 2 hotels.
São Miguel
São Miguel, with its crater lakes, geysers, and seaside villages is the main island in the Azores and where all flights from Boston land in the fall, winter and spring. With easy access to the airport and major roads, Ponta Delgada is a great location to make day trips to and from the rugged coastline. Venture off to mountain crater lakes or visit the steaming thermal lakes and tea and pineapple plantations in the interior.
Terceira
Terceira's lively and historic main city, Angra do Heroísmo, has been classified by UNESCO as a World Heritage Site and has ample cultural offerings. The north coast offers black lava cliffs and a wine museum. The center of the island is dominated by the St. Barbara Mountains.
Pico
Meaning, "peak" in Portuguese; the steep volcanic mountain that often rises above the cloud cover, characterizes Pico. Visitors can climb to the 7,700-foot summit, the highest point in Portugal, or stay closer to sea level and enjoy Pico's signature wine known for containing just a hint of lava.  
Other Islands
Two of the other islands offered include Faial, famed for its harbors that are often filled with yachts from around the world, and sunny Santa Maria, known for having some of the best beaches in the Azores. Graciosa is famed for it wines; pastries, and its underground lake.
The Azores, www.flytoazores.com