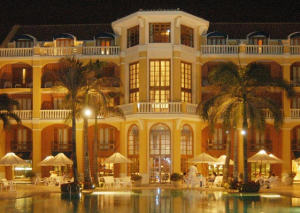 New Year's Eve will be magical for those who welcome a New Year at the Sofitel Legend Santa Clara Hotel, where everything is arranged to perform "The Legendary Around the World" – a big party arranged to amaze all of the guests.
Taking as inspiration from the adventure book "Around the World in 80 Days" by French writer Jules Verne, the hotel is opening its extraordinary scenery full of legendary stories for over 400 years to transfer the magic to the 21st century as it bids farewell the 2013. The party starts at 8:00 pm, where each guest will be welcomed with a special gift, a glass of Moet & Chandon champagne, and a bottle of Chivas Regal aged 18 years.
A gastronomic tour begins through different themed stations to celebrate the world´s most exquisite dishes designed and prepared by the hotel's executive chef Alexandre Isabelle. It begins with the Arab station where guests will be against the backdrop of the Amaral Sun, followed by the Indian station at the Santa Clara Hall Aisle with delights inspired by oriental spices and flavors, then it's off to the Eastern station, located at the 1621 Restaurant Bar with sushi preparation in sight.
At the restaurant hall, the Spanish station will feature delicatessen and cold meats, and the French station inside the newly renovated restaurant "El Claustro" will feature meats and sauces, desserts, cheese, crepes and breads.
At the pool area is the Colombian station, with typical Cartagena dishes and a special place for fried foods, ending with the Mediterranean station showcasing the region´s typical cuisine of grilled steaks, appetizers, olive oils and seasonings.
Afterwards guests will have a real fireworks show in both the Cloister courtyard and at the pool at the So Spa terrace with a gunpowder show.
Sofitel Legend Santa Clara has also reserved the Santa Clara Hall for the New Year's Eve party which will feature a live performance from Son del Wachy, alternated with live sessions from DJs.
A Chill Out Brunch will take place on New Year's Day at the pool area, where guests can enjoy a variety of different dishes ranging from salads, fish, meat, Cartagena dishes, breads and cheeses, among others.
Sofitel Legend Santa Clara has prepared a 5 night/6 day package for your client's to enjoy New Year's Eve in Cartagena. The package includes buffet breakfast served at El Claustro restaurant, ground transportation, and a car tour through the city´s historic center.
Sofitel Legend Santa Clara, reservas.santaclara@sofitel.com; www.sofitel-legend.com