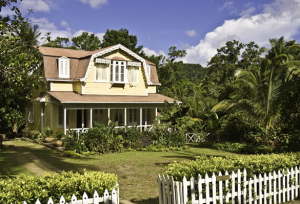 Fond Doux Holiday Plantation, best known for its romantic, intimate and private collection of luxury cottages, is spending part of 2013 touching up and renovating its resort.
"We are very pleased on how things have been coming together here at Fond Doux, giving our customers something that is new, refreshing, bright and pleasant,"said Fond Doux owner Eroline LaMontagne. "And we have more to come."
Earlier this year Fond Doux embarked upon a plan to enhance guest experiences on its authentic working plantation, which includes:
Construction of 2 NEW, deluxe cottages with rainforest showers and plunge pools
Refurbishing of the existing cottages
Larger lobby with a new lounge area in the main building
In September, Fond Doux was honored with a Silver Award by The Travel Weekly Magellan Awards for their cottage design. This year they also received a Certificate of Excellence award from TripAdvisor.
Following a successful international weddings symposium held in St. Lucia in September, the romantic surroundings of the resort have also been enhanced. Additional floral species have been planted throughout the property, including a new orchid entrance leading to the resort's new, handmade bamboo "Circle of Love" wedding gazebo.
As part of its overall enhancements, Fond Doux's restaurants, Jardin Cacao and Cocoa Pod, have also been reorganized to give a more cozy and comfortable feeling. Other items have started to see replacement including newly refreshed pathways, some of which have been replaced with concrete. Cottages are now displaying works by local artist AlwynSt.Omer, a master draughtsman, colorist and storyteller with a deep passion and lifelong desire to document and to preserve St. Lucia's heritage.
Fond Doux Holiday Plantation, www.fonddouxestate.com