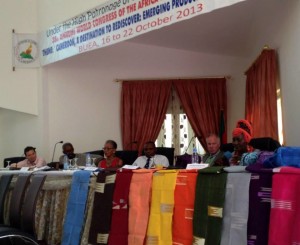 The Africa Travel Association, the leader in tourism promotion to Africa, held its 38th Annual Congress in Buea, Cameroon from October 16-20, 2013. Under the banner of "Re-Discovering Cameroon," nearly 200 international and local delegates, including tourism ministers from Cameroon, Uganda and Zimbabwe and representatives from the public and private sectors, gathered at the newly-opened Mountain Hotel to explore how tourism is one of the most promising industries across Africa and an evolving industry in Cameroon.
The Congress was hosted by the Cameroon Ministry of Tourism and Leisure under the auspices of Honorable Minister of State, Minister of Tourism and Leisure, Bella Bouba Maigari. In his opening remarks, the Minister said, "The 38th edition of ATA's Congress in Buea is taking place at a time when tourism, a sector with a strong added value that cuts across sectors, is ranked as one of the biggest industries in the world. The important role it plays in Cameroon's economy contributes significantly to improving the trade balance."
Drawing on the theme of the event, the Minister said Cameroon will be "re-discovered" time and again, particularly when there is so much "to newly discover, given the country's incredible tourist potential, natural resources, cultural diversity, peaceful cohabitation of religions and political stability, which makes our country a tourist El Dorado, known as "All Africa in one country."
Also building on the theme, ATA's Executive Director challenged the delegates to take a new look at Cameroon and to share ideas and insights on how to grow the industry and refine products. "Please consider how we can diversify a country's attractions by investing in new niche tourism products; please also consider how the public and private sectors can partner together to support the packaging and growth of tourism in the region."
Reaching out to the U.S. Market
Throughout the deliberations the Cameroon delegates from both the government and private sector emphasized their desire to connect with the North American market. In his remarks, Minister Bella Bouba Maigari spoke about the importance of turning Cameroon's diversity into innovative products that could be sold to the North American marketplace. He said, "The Government is determined to spare no effort in order to boost up the tourism industry," announcing that Cameroon recently opened a new tourism information bureau office in Washington, D.C.
A number of U.S.-based speakers explored this topic in their presentations. John Riggin, President of Partner Concepts, spoke about how to promote a successful African destination, product or service in the U.S. market. Bianca Menendez, Political/Economic Chief at the U.S. Embassy, spoke about the realities of doing business in Cameroon; and Mark Walton, Managing Director of Onyx Global Marketing, spoke about strategies and tactics for a country to adopt to improve its brand.
Engaging New Partners in Tourism Growth in Africa
For the first time, representatives from the African Development Bank (AfDB) and the New Partnership for Africa's Development (NEPAD) participated in an ATA congress. Both in the Opening Ceremony and in a panel on public-private partnership, Estherine Lisinge Fotabong, Director-PICD at NEPAD, spoke about NEPAD's role in economic growth across the continent and the possible role travel and tourism can play in increasing trade and investment. African Development Bank (AfDB) representative, Beejaye Kokil, Division Manager of the Economic & Social Statistics Division, provided an overview of what's happening in business in Africa right now.
Against this backdrop, Associate Director of New York University-Africa House, Eddie Mandhry, announced the release of the first Africa Tourism Monitor, a joint publication produced by AfDB, New York University-Africa House and ATA. "This report presents some of the major opportunities and challenges facing Africa's tourism industry," said Mandhry. "The facts, figures, commentaries and case studies presented in this inaugural issue show how stakeholders across sectors and the continent are taking an innovative approach to growing the industry." Mr. Mandhry also revealed that Africa continued to show a growth trend, growing from 37 million in 2003 to 63.6 million in 2013.
After the launch of the report, the tourism ministers from Cameroon, Uganda and Zimbabwe participated in the Tourism Ministers' Roundtable, in which delegates had an opportunity to directly address the ministers and to learn about their tourism agendas.
Africa Rising
The Congress captured the spirit of Africa's economic growth in a number of sessions, beginning with the keynote by Valentine Ozigbo, Managing Director and CEO of Transnational Hotels & Tourism in Nigeria. Ozigbo spoke about the growth of hotels and lodging in Africa, its impact on the tourism industry, and how governments can support investment through public-private partnership.
Angelle Kwemo, founder of the Congressional African Staff Association, also articulated the message that Africa is on the rise in her presentation on global investment in tourism. "In the twenty-first century economy, any company that needs to grow needs an Africa strategy and any African country that wants growth needs a global strategy," she said.
The discussion on airline connectivity also captured the spirit of "Africa rising." Presenters included Esayas WoldeMariam Hailu, Managing Director of Ethiopian International Services at Ethiopian Airlines, serving 46 destinations in Africa; Bobby Bryan, Commercial Director of Delta Air Lines, serving 4 in Africa; and Djanabou Ali, Sales Executive at Brussels Airlines, serving 20 destinations in Africa.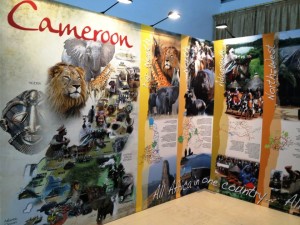 Discovering Southwest Cameroon
The Ministry of Tourism and Leisure organized two separate afternoon excursions for delegates to learn more about the products and attractions in the region. The first included a tour of the Tole Tea plantation followed by a visit to the Limbe Wildlife Center.
A former zoo, the center is a wildlife rescue and rehabilitation project that is home to endangered wildlife including gorillas, chimpanzees, and several species of monkeys.
The delegates then headed to the neighboring Botanical Gardens in Limbe for some cultural entertainment. The day wrapped up with a special dinner, a blend of French and African cuisine, at the Fini Hotel, www.finihotel.com/. The Fini boasts a view to Limbe's black beaches and is home to one of the region's top night clubs.
The second Host Country day included ATA's annual tree-planting ceremony at the entrance of Buea University's Medical School. Then, delegates visited Bimbia, the trans-Atlantic and trans-Saharan slave port. In the words of one of the delegates, "It was an incredibly memorable experience, unlike no other heritage site I've visited in Africa, including Ghana and Senegal, but it requires an all-terrain vehicle to ascend the Limbe hills and sturdy and comfortable shoes to walk through the canopy of trees."
The potential of Cameroon's attractions was presented at a session with the country's leading tourism specialists, who all made strong cases for more increased attention and investment not only from the U.S. market, but also the Chinese one. Moderated by Elimbi Ebenezer, former Director of Tourism Marketing at the Ministry of Tourism and Leisure and a consultant to the UNWTO, presenters included Adam Mahamat, a Cameroon tour operator based in China; Elangwe Peter, a tourist delegate in the Southwest; and Rodolphe Simo Kam, Managing Director of SOFITOUL, one of the country's largest travel companies.
Additional Program Highlights
Amini Kajunju, President & CEO of the Africa-America Institute (AAI), www.aaionline.org/, set the tone for a number of presentations in her spotlight on "Building the Capacity for Inclusive Tourism Growth in Africa." In her remarks, she explored why tourism, if managed properly, has the potential to improve lives and support equitable growth on all levels. She also spoke about how tourism can create opportunities for marginalized communities like women, rural areas and youth.
On this basis, a number of sessions focused on the role nonprofits can play in expanding socio-economic growth. Georges Bwelle, a top ten "CNN Hero," spoke about how his non-profit, Ascovime, ascovime.org/, delivers medical services to underserved communities across Cameroon. Khalid Elachi, Chief Operating Officer of MCW, www.mcwglobal.org, and Joseph Okelo, Country Director of Global Travel and Tourism Partnership, www.gttp.org/, shared how their nonprofits create tourism jobs for youth.
Chef Pierre Thiam, author of the cookbook on Senegalese cuisine, Yolele, who was joined by local Chef S. Emile Engoulou of Le Club Municipal Restaurant, spoke about the importance of using local food and ingredients in the tourism industry.
The congress also emphasized the diversity of Africa's products beyond the traditional sea and safari packages. Highlights included a spotlight on Nigerian fashions and textiles in a fashion show organized by Chief Margaret Bolanle Fabiyi, who is President, Webisco International Federation of Women Entrepreneurs & Tourism in Nigeria. Additional topics included religious travel, diaspora tourism, national parks, and mountain climbing.
Also, Travel trade and mainstream media delegates explored the relationship between tourism and the media at ATA's second annual media exchange. Moderated by Claudine Moore, Managing Director of C Moore Media International, journalists spoke about how to leverage the global interest in Africa by adopting international communication strategies to increase tourism traffic.
The Congress welcomed strong participation from students and young professionals. "The YPP participants played an active and direct role in the Congress this year, organizing a presentation on Cameroon and a social night at the Chariot Hotel," said Bergman. "They participated in all the sessions, maximizing all the opportunities for networking and learning. Their enthusiasm and dedication makes us all excited for the future of Cameroon's tourism industry."
Taking the lead with the Young Professionals program were Eyong Ayuk Ako-Ebot, MA Tourism Management, and Hyppolite Mouaffo, Adjunct Professor of Hospitality and Tourism Management at Stratford University.
The congress wrapped up with the "Africa's Destination Travel Specialists Forum". Participating travel agents included from the U.S., Dr. Gaynelle Henderson-Bailey, Henderson Travel Services; Michael Madison, President, Arbor Travel Associates; and Mohammed Zaki, President /CEO, RZ Travels, Inc., as well as Abigail Lubliner, Associate, Adventure and Eco Tourism from Israel, who shared top tips on how to conduct business in their markets.
Africa Travel Association, www.africatravelassociation.org