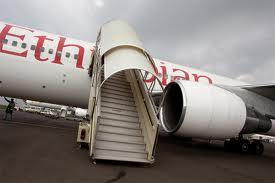 Ethiopian Airlines, the fastest growing and most profitable African airline, will take delivery of the first of four Boeing 777-300ERs on November 7, 2013. The B777-300ER is the largest aircraft in the airline's fleet with a nearly 400-passenger seating capacity.
The Ethiopian B777-300 ER will operate in the airline's dense routes such as Guangzhou; Washington, D.C.; Dubai and Luanda. The aircraft is scheduled to serve the Addis Ababa – Luanda route three times a week beginning November 10, 2013, and three times a week on the Addis Ababa – Guangzhou route beginning November 15, 2013. Service to Washington Dulles International (IAD) airport in Washington, D.C. will commence in June 2014. The aircraft will feature 34 business class seats and 365 in economy.
"The B777-300 ER will be the biggest aircraft in our fleet," said Tewolde Gebremariam, CEO of Ethiopian. "Its introduction marks another big milestone in the history of the airline, which has always been and remains an aviation technology leader in Africa. The Ethiopian B777-300 ERs will give our passengers exceptional on-board comfort and an enhanced travel experience with its spacious cabin interior, high ceiling, advanced in-flight entertainment system, increased stowage capability and additional cargo uplift flexibility. With its long range capability and fuel efficiency, the aircraft will be instrumental in supporting our fast growth in our non-stop long haul routes in China and the Americas."
Ethiopian – which is a multi-award winning Pan-African carrier as the Passenger Choice Awards "Best Airline in Africa" and the SKYTRAX "Best Staff Service in Africa" of 2013 – will phase in three additional B777-300ERs in January 2014, May 2014 and June 2015.