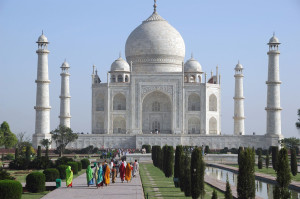 Foreign Independent Tours (FIT) provides travelers with the experience of a lifetime – one filled with excitement, comfort, luxury, and great memories. For your Asia-bound clientele, FIT is offering a special 8-day India Golden Triangle package, a classic escorted India tour from $1,029.00. The tour begins in Dehli, with stops in Chomo, Jaipur and Agra. The full itinerary is below.
DAY 01: SUN – Upon arrival at Delhi Airport, you will be met and transferred to your hotel for check-in. Overnight in Dehli.
DAY 02: MON – After breakfast, the morning is at leisure. This afternoon, visit Old Delhi. Drives past the Red Fort: a marvel in red sandstone. Visit the Raj Ghat: memorial to Mahatma Gandhi, the Jama Masjid: the largest mosque in India. Return to your hotel. Overnight in Delhi.
DAY 03: TUE – After breakfast, visit New Delhi. Drive past the India Gate: memorial to the Indian army soldiers who died in the World War I, the Rashtrapati Bhavan: formerly the viceroy's residence, and the Parliament House. Visit also the mausoleum of emperor Humayun. Drive to Chomu (approximately 6 hours). Check-in and overnight in Chomo.
DAY 04: WED – After breakfast, visit the Chomugarh fort: a three storied structure with a lot of open space like 'chowks' (open courtyards), 'baradaries' (pavilions), and 'chandnies' (semi-covered terraces). Visit also a foundry in the fort which was established by Krishna Singh Ji in 1816 AD. End the tour with a visit to a local vegetable market. Drive to Jaipur (approximately 1 hour). Check-in and overnight in Jaipur.
DAY 05: THU – After breakfast, morning visit of the Amber Fort with Elephant ride. Amber is a classic, romantic Rajasthani Fort Palace. Afternoon city tour begins with a visit to the Maharaja's City Palace, the former Royal residence, part of it converted into a museum. A small portion is still used by the Royal family of Jaipur. Built in the style of a fortified campus, the palace covers almost one-seventh in area of the city. One of the major attractions in the museum is the portion known as Armory Museum housing an impressive array of weaponry-pistols, blunderbusses, flintlocks, swords, rifles and daggers. The royal families of Jaipur once used most of these weapons. Later visit the Jantar Mantar, which is the largest stone and marble crafted observatory in the world. Situated near the gate of the city palace, the observatory has 17 large instruments, many of them still in working condition. Return to your hotel. Overnight in Jaipur.
DAY 06: FRI – After breakfast, drive to Agra (approximately 7 hours). Enroute, visit the Chand Baori: a step well located in the village of Abhaneri. Visit also, the deserted city of Fatehpursikri built by Emperor Akbar in 1569. Continue to Agra. Check-in and overnight in Agra.
DAY 07: SAT – After breakfast, visit the world famous Taj Mahal built by Shah Jahan in 1560 in memory of his queen Mumtaz Mahal to enshrine her mortal remains. This architectural marvel is a perfectly proportioned masterpiece fashioned from white marble that stands testimony to the skill of 20,000 craftsmen brought together from Persia, Turkey, France and Italy and who took 17 years to complete this 'Love Poem in Marble'. Later visit the Agra fort containing the halls private and public audiences and other palaces. Shah Jahan spent years of confinement at the hands of his son Aurangzeb, looking wistfully at the Taj Mahal from the Fort. Go back in time and ride a 'tanga' (traditional horse-pulled carriage). Return to your hotel. Overnight in Agra.
DAY 08: SUN – After breakfast, drive to Dehli for your return flight (approximately 5 hours).
Foreign Independent Tours, www.fittours.com