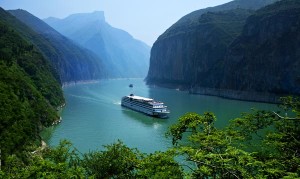 Pacific Delight Tours is offering a 13-day familiarization trip to China from April 24 – May 6, 2014. In addition to Hong Kong, Chongqing, Xi'an and Shanghai, agents will explore the full navigable length of the Yangtze with a seven-day cruise on the five-star Victoria Sophia for an in depth look at life on the river beyond the typical Three Gorges Experience.
The trip will provide agents with a first-hand experience of the Mountain of the Nine Lotuses, an enticing stroll back into China's imperial past through the floating alleys of the Yu Garden, a luxurious sunset from the edges of Victoria Peak overlooking Hong Kong's glistening lights, and visits to Nanjing, Wuhan and the Three Gorges Dam from $2,399 per agent, including airfare.
Travel agents will learn about China's ancient history and early civilization as they sail along the majestic Yangtze River enjoying educational lectures and commentary from experienced English-speaking Victoria Cruises river guides and cruise directors.
Participating hotels include Marriott properties in Shanghai and Chongqing as well as the Harbour Grand Kowloon in Hong Kong. Air inclusive rates are per person, based on double occupancy, with departure from LAX/SFO departure (additional gateways available upon request). A single occupancy surcharge is available from $799, while agents can opt to bring a companion for $2,599.
Pacific Delight Tours, 800-221-7179; www.PacificDelightTours.com