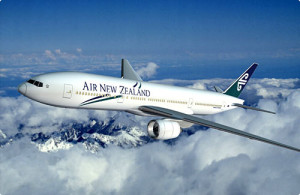 Air New Zealand has announced Auckland-Perth will be the first scheduled route ever operated by the revolutionary new Boeing 787-9 when the airline takes delivery of the launch aircraft next year.
Chief Executive Officer Christopher Luxon made the announcement at the official opening of the airline's Customer Innovation and Collaboration Center in Auckland today. A feature of the center is the only Boeing 787-9 full cabin interior outside the factory in Seattle. The interactive interior experience showcases each of the three 787-9 cabin environments: Business Premier; Premium Economy; and Economy – including the unique Kiwi designed Economy Skycouch.
The airline has confirmed an 18 lie flat seat Business Premier zone in a herringbone layout and a separate 21 seat Premium Economy cabin in a 2-3-2 configuration, each with its own dedicated bathroom facilities.
"We are determined to deliver step changes in customer experience and to work with our trade partners to crack business issues and seize opportunities together. This center provides a focal point to bring to life the best of Kiwi ingenuity and we will also make it available as a venue for like minded Kiwi businesses to use."
Mr Luxon says the 787-9 dedicated routes to follow Auckland-Perth (which is operated as part of its trans-Tasman alliance with Virgin Australia) will be Auckland-Tokyo and Auckland-Shanghai, meaning the airline will be offering lie flat Business Premier seating and the unique Economy Skycouch to even more long haul destinations.
Air New Zealand, www.airnewzealand.com