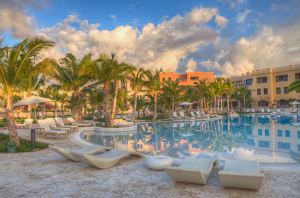 AlSol Hotels & Resorts, luxury international hotel and resort operator based in Cancun, Mexico, will expand their list of amenities at their AlSol Luxury Village resort in Cap Cana, Dominican Republic, with the addition of a private beach club, sandy beach and recreational area on the property. The management shares that "new beach will offer sand and sea and will have a sexy, bohemian-chic ambiance reminiscent of Southern California and South Beach."
The beach, which is set for completion and use by the second half of December, will be outfitted with Balinese beds and hammocks for the ultimate in seaside relaxation. Complete with fresh, stylish decor and offering choice music, excellent food and beverage service, romantic dinner packages and personalized beach butlers, the new beach will round out the paradise-like experience found at AlSol Luxury Village. Volleyball, soccer, bocce ball and other sand sports will also be available for use at the new space.
"AlSol Luxury Village is set on one of the world's most stunning and luxurious master-planned communities, and we wanted to take the next step to give our owners and guests the opportunity to take advantage of the unparalleled surroundings," said Carlos Del Pino, Managing Director of AlSol Hotels & Resorts. "We've always afforded guests access to a secluded beach just two-minutes away from the resort via a private watercraft, but now they'll have the added option of counting such an attractive feature as part of the resort."
Those staying on the property can dine at the resort's two restaurants, drink specialty cocktails at two bars, swim in four private pools, visit the chapel, dance at the night club and shop at stylish retail shops on the village's Main Street and plazas. There is also a selection of children's activities, boat rental options, sport fishing tours and more.
Alsol Hotels & Resorts, www.alsolresorts.com