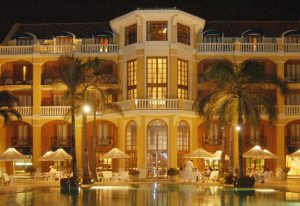 The World Luxury Hotels Awards, established in 2006, recognize the luxury hotel industry worldwide and legendary hotels regarding the general service excellence. This year over 1,000 hotels in 87 countries were nominated to participate in the initiative, voted on by international tour operators, travel agents and those guests who have the opportunity to give their valuable votes every year, making this process fair and impartial.
"This important award is not just for the hotel and its food, beverages and banquets teams, who work tirelessly to create real wedding experiences, but it is also an achievement for the city of Cartagena that has become a valuable international destination for couples who want to make their dreams come true," said Richard Launay, General Manager of Sofitel Legend Santa Clara .
For Sofitel Legend Santa Clara, the wedding event is one of the utmost priorities. This is why is leading efforts to deliver valuable tools and information to the industry each year through its ´Tendencies´ event.
Sofitel Legend Santa Clara also received the top spot in the 25 Hotels of South America list of Reader Choice Awards 2013, its promotion to fourth in the Travel & Leisure list, a Wine Spectator Cup for excellence in the 1621 Restaurant and admission to the "Top 101 Suites in the World" list with the Botero suite of the private jets magazine; Elite Traveler, among others.
Sofitel Legend Santa Clara, www.sofitel-legend.com